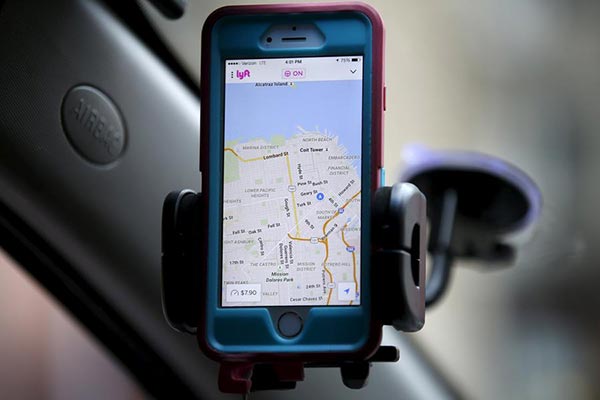 A smartphone app for Lyft drivers is seen during a photo opportunity in San Francisco, California February 3, 2016.[Photo/Agencies]
BEIJING - Chinese ride-hailing service Didi said on Tuesday that Chinese tourists will be able to use its mobile app to book rides provided by its partner Lyft when traveling in the United States starting Wednesday.
The Beijing-based start-up has invested in other ride-hailing services abroad since last year, including Lyft in the United States, Grab in Southeast Asia and Ola in India, to compete with rival Uber outside China.
Didi's Chinese mobile app will serve as a gateway for Chinese tourists to access Lyft's services. Lyft operates in nearly 200 US cities, including popular destinations such as New York, Washington D.C., Los Angeles and San Francisco.
Didi said it will also provide translation services should customers have trouble communicating with drivers, and fares will be converted into Chinese currency and payable through Chinese mobile payment services offered by Alibaba and Tencent.
Foreigners in China are also expected to be able to access Didi's services in China through Lyft during the second quarter of this year, Didi said.
Didi hopes to be able to offer similar mutually accessible services with Uber's rivals in other markets around the world. China's travel boom has fueled demand for tailored services for over 100 million Chinese travelers abroad, ranging from Chinese-speaking shop assistants and acceptance of Chinese credit cards to slippers in hotels.