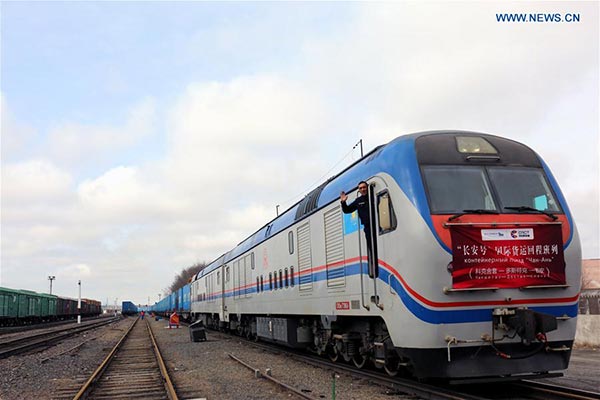 The Chang'an cargo train is about to leave the train station at the town of Dostyk, Kazakhstan, March 20, 2016. [Photo/Xinhua]
WUHAN - Caravans of camels carrying silk, jewels and spices along the Silk Road are long gone, but cargo trains linking Chinese cities with Europe are taking the ancient road into a brand-new future.
Lin Zhengpeng's electronics products used to take 40 days to reach Poland by sea. Now, with a new train route linking Europe and Wuhan City where his company is based, it takes just two weeks.
"Our efficiency with trains is much higher than shipping, and the cost is lower than airfreight," Liu said.
A direct freight train linking Wuhan in central China and Lyons in France began running last week.
China now has three rail channels to Europe -- a western route through the Alataw Pass in Xinjiang to Kazakhstan, a middle path via Erenhot to Mongolia, and through Manzhouli in the northeast to Russia. Many cities now have freight trains to European cities including Hamburg, Lyons and Madrid.
Such train networks have flourished since the launching of the Silk Road Economic Belt was proposed in 2013 to improve cooperation between countries along the ancient Silk Road.
According to the Ministry of Commerce, trade between China and "Belt and Road" countries totaled $995 billion in 2015, about a quarter of the national trade volume.
"In the past, it was basically Chinese companies shipping their products to Europe by train, but now European companies are exporting products such as automobile parts to China," said Dong Wanxu, General Manager of Eurasia International Logistics Ltd.
Goods produced in Wuhan can reach over 20 countries along the line. In the first quarter of this year, 39 trains carrying 3,512 standard containers of goods have departed Wuhan for Europe, already more than the total for 2014, according to Yu Shiping, director of Wuhan's transport commission. Over 300 trains are expected to set out this year, compared with 164 last year.
The western municipality of Chongqing sent 490 trains to Europe in 2015; Zhengzhou more than 300, representing over $1.4 billion of goods.
Exports are only half the story. In northeast China, where a freight train began running to Europe last year, Russian imports are all the rage.
"I often buy Russian flour," Liu Ruiguo said as he ladled flour into a sack in a grocery store in Changchun, capital of Jilin Province. "The noodles and dumplings made with it have a better texture," he said, surrounded by a cornucopia of Russian commodities.
The Changchun-Manzhouli-Europe line has transported cargo worth more than 35 million euros since August, and in return the trains have brought novel, cheap goods like vodka, tiramisu and wild Siberian honey.
In a Russian store in Changchun a bottle of vodka costs only 45 yuan ($6.9), while fresh tiramisu costs only 30 yuan. Some items like flour are even cheaper than their Chinese counterparts.
"China has a trade surplus with many countries, but the China-Europe trains can help foreign countries exploit the Chinese market," said Lan Jianping, head of the Zhejiang Industry and Economy Research Institute.
"The China-Europe freight channels will definitely play a part in reviving the ancient Silk Road," he said.