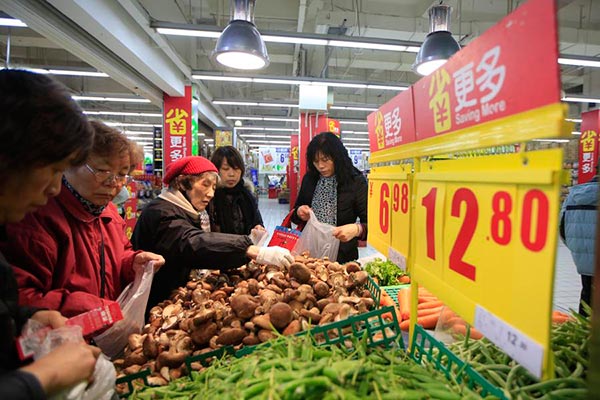 Consumers choose vegetables at a supermarket in Shanghai, March 10, 2016. [Photo/Agencies]
China's consumer price index rose by 2.3 percent in March from a year ago. It was unchanged from February but lower than market expectations. Analysts said prices will not pose a serious challenge to policymakers, and the situation will benefit the country's efforts to keep growth on track.
Food prices, which account for about one-third of the CPI, rose by 7.6 percent year-on-year, according to the National Bureau of Statistics on Monday. Meat prices rose by a sharp 16.5 percent, pushing overall prices up by 0.69 percentage points.
Pork prices have risen strongly recently, fueling expectations that the CPI will grow faster in March. But prices of other items, such as tobacco, eggs, vegetables and fruit, dropped by 0.4 percent, keeping overall price levels stable.
China has set a target for CPI growth this year of 3 percent.
"The March reading shows that rising inflation levels pushed up by food price increases have not evolved into serious inflation risks," said Liu Dongliang, senior analyst at China Merchants Bank. "Entering April, vegetable prices will gradually fall, but since pork prices may continue to rise, the overall prices may continue to be at high levels."
Liu said inflation may peak in April before gradually falling during the rest of the year. "It will not be a major problem this year."
Stabilizing prices will facilitate policymakers' efforts to anchor the economy, analysts said. If the CPI were to rise sharply, policymakers may be forced to tighten their monetary stance, thus putting pressure on economic growth.
Nomura Securities economists said in a research note that "contained inflationary pressures leave room for monetary easing", predicting three reductions in banks' reserve requirement ratio-or money that must put aside as reserves-and one cut in the interest rate for the rest of 2016.
China's economy grew by 6.9 percent year-on-year in 2015, the slowest in 25 years, causing concerns among global investors about the health of the world's second-largest economy.
The World Bank said in a Monday report on the East Asia and Pacific economy that the Chinese economy is expected to grow by 6.7 percent year-on-year in 2016 and 6.5 percent in 2017.