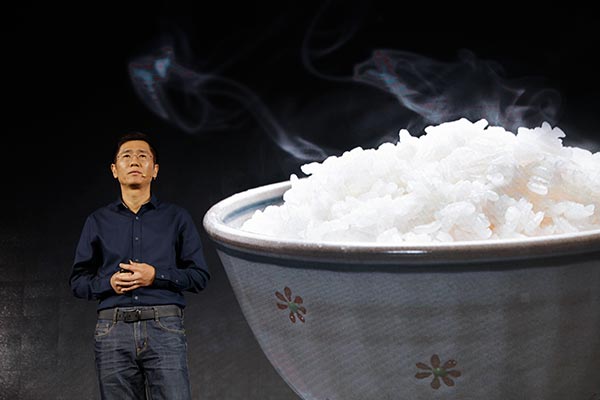 Liu De, co-founder and vice-president of Xiaomi Corp, speaks at the launch of its small home appliances brand Mijia in Beijing. Xiaomi in Chinese means small rice or millet.[Provided to China Daily]
Hurt for long by superior Japanese small appliances, domestic manufacturers are unleashing improved products
Makers of home appliances in China are improving their products to win back quality-conscious Chinese consumers who go overseas on shopping sprees.
The campaign to make new, improved made-in-China products started with the electric rice cooker. Big players such as Midea Group, Gree Electric Appliances Inc and consumer electronics major Xiaomi Corp launched high-end induction heating or IH rice cookers recently.
They claimed their products are on a par with those of their Japanese counterparts.
Yet, Chinese tourists flew several thousand kilometers to buy made-in-Japan electric toilet seats and rice cookers. This made headlines during the Spring Festival holiday in February.
Lei Jun, CEO of Xiaomi, is not surprised. The quality of many products made in China fails to meet the elevated expectations of Chinese consumers who now have greater spending power, he said.
"At first, I thought Chinese people had blind faith in the quality of foreign products. But later I discovered, after research, that Japanese makers did have a technological edge," Lei said in a speech during the annual sessions of the National People's Congress and the Chinese People's Political Consultative Conference held in Beijing in early March.
"While Chinese models could cook rice thoroughly, Japanese models could cook rice beautifully, making the rice dance."
According to the Ministry of Commerce, Chinese tourists spent about 1.2 trillion yuan ($185 billion) overseas last year.
Chinese consumer demands have increased from functional products to products with great user experience, Lei said.
"To keep consumers home (in China), Chinese manufacturers need to refine the design and quality of their products to perfection with the spirit of craftsmanship and at the same time increase efficiency with Internet technologies to offer great buys," he told China Daily. "And such products are what I call 'new made-in-China products'."
The Beijing-based Xiaomi, best known for its affordable, feature-rich smartphones, has been exploring the smart home-appliances sector for the past two years.
It launched a new brand, Mijia, for the sector on March 29. The first product to enter the market under this brand is a smartphone-controlled IH pressure cooker for rice. Sales of the Mijia rice cooker begin today.
Priced 999 yuan, it aims to beat most Japanese IH rice cookers that are sold for 3,000 yuan to 5,000 yuan each. Lei said rice cooked in a Mijia cooker tastes as good as that cooked in Japanese cookers.
The Mijia R&D team spent two years in developing the product. They drafted Naito Takeshi, the Japanese inventor of IH pressure cooker technology, into their team.
The design of the pressure valve and cooker coating are better, according to Lei. It is also a "smart" device that can cook rice according to the grain's brand, type and origin. All users need to do is scan the barcode on their rice bags with an app.
Dong Mingzhu, president of Gree Electric Appliances Inc, a leading air conditioner manufacturer based in Zhuhai, Guangdong province, is also confident her company's newly released IH rice cooker can rival or even excel Japanese high-end products.
Gree conducted a blind taste test at its rice cooker's launch on March 8, inviting about 100 guests to compare rice made in its cooker with that cooked using foreign appliances. Gree's cooker won the most votes.
"With so many manufacturers in China, there's no excuse for not making a good rice cooker," Dong said. "We want to rebuild Chinese consumers' confidence in made-in-China products with the rice cooker as the catalyst."
While sales growth of televisions, refrigerators, washing machines and air conditioners are sluggish, small appliances, especially those used for cleaning and cooking, are booming in China, thanks to domestic consumers' growing demand for quality life, as shown by surveys by China Market Monitor Co Ltd.
The market size for small appliances reached 95 billion yuan last year, up 6 percent year-on-year, the market research agency estimated. The shipment volume of rice cookers was about 50 million units.
This year, the rice cooker segment will see its output value rise by more than 15 percent. IH rice cookers are expected to contribute more than half of the sales, according to Midea.
The home appliances giant exported more than 2 million rice cookers to Japan in 2015. It launched a high-end IH rice cooker in Japan in April last year, challenging Japanese competitors on their home turf.
"Chinese manufacturers have accumulated strong manufacturing capacity and technological ability by cooperating with multinational giants in the past several decades," said Yuan Liqun, vice-president of Midea. "While we realize the gap with developed countries, we should have faith in our potential and actively transform and upgrade China's manufacturing industry."