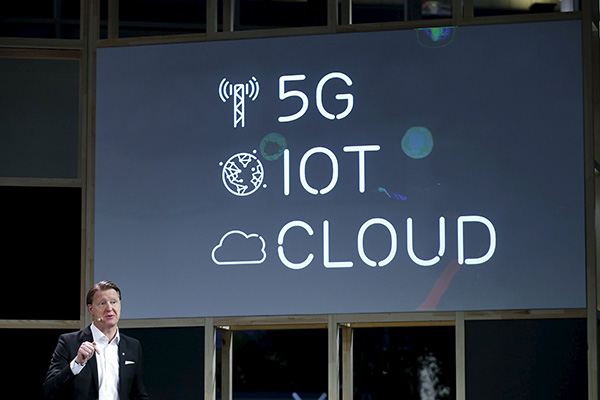 Ericsson's President & CEO Hans Vestberg attends a news conference during the Mobile World Congress in Barcelona, Spain February 22, 2016. [Photo/Agencies]
China is a strong foothold for Ericsson's research and development, manufacturing and services activities worldwide, company executive said.
"The core-competitiveness for Ericsson on 5G solutions in a market like China is that we have a full system view and we have a strong offering, consisting of both products and services, everything from the access, the transport, the cloud technologies and the complete management on the acquisition," Sara Mazur, vice president and head of Ericsson Research, told chinadaily.com.cn.
At MWC (Mobile World Congress), Ericsson President and CEO Hans Vestberg said the company has agreements with 20 major operators around the world to work together on 5G – more than any other vendor.
Vestberg pointed out that 5G radio test-bed field trials will start this year and the company is active in aligning industry time plans (3GPP, ITU-R) to assure the commercial launch of 5G in 2020.
Ericsson's 4G networks have been broadly deployed on a global scale in North and South America, the Asia Pacific region, the Middle East and Europe. To capture the next-generation ultra-faster 5G market, the vendor has ramped up research and development investments.
Ericsson's 5G wireless prototypes have taken shape, and the vendor has cooperated with major operators in Sweden, the United States, Japan, Korea and Brazil to test its 5G technology.
According to a company statement, Ericsson's annual R&D investment in China exceeds $310 million. With nearly 5,000 employees in Beijing, Shanghai, Guangzhou, Nanjing, Chengdu and Shenzhen actively engaged in R&D and product development of the entire Ericsson portfolio, China has become the largest and a truly global R&D base for Ericsson worldwide outside Sweden.
Currently, Nanjing Ericsson Panda Communication Co Ltd has grown into Ericsson's largest supply and manufacturing hub, supporting the company's global supply network and providing products for GSM, WCDMA, LTE and TD-LTE to more than 100 countries.
Ericsson is also working closely with the Chinese government, academia and the entire ecosystem in China to drive the global standardization of 5G.
On Dec 21, the company and China Mobile Research Institute (CMRI) signed a Memorandum of Understanding (MoU) to collaborate on 5G research and development.
The agreement will help drive innovation and early application of 5G mobile network technology in the country.
Under the terms of the MoU, which will initially cover a five-year period, Ericsson and China Mobile will cooperate in verification, trial and standardization of a new 5G Air Interface for commercial deployment from 2020.
It also will closely interwork between 5G and the evolution of LTE, as well as innovate RAN features to support future industrial use cases and demonstrate, verify and conduct trials of narrowband IoT (NB-IoT) for massive machine-type communication, as well as collaboration on corresponding vertical use cases.