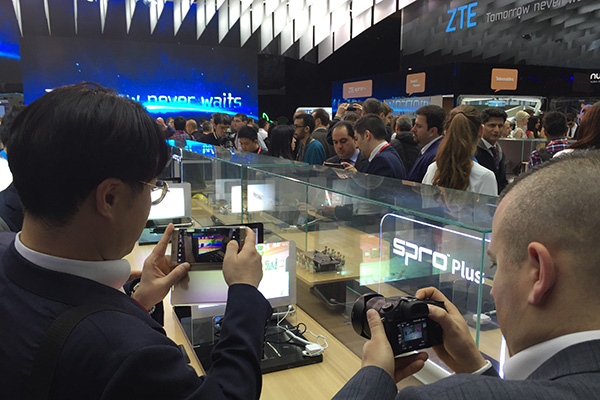 MWC attendees take pictures for ZTE's newly launched projector-Spro Plus, at the ZTE booth, Feb 22, 2016. [Liu Zheng/chinadaily.com.cn]
Following its popularity in the United States, ZTE has also made plans to bring a traveling roadshow to Europe where consumers can enjoy ZTE devices on an "Experience Bus" visiting cities throughout the region. It will kick off in Barcelona, and will pass through Germany, Poland, Italy and France. In the span of two months, it will travel across five countries and cover 15 cities.
On board the "Experience Bus", consumers will get to try out devices from the Axon, Blade and Spro series and see how each of these can make an impact in their daily lives.
In addition to the localized promotions, the affordable price tag of ZTE's products is another key to competitiveness in the overseas market, according to Zeng.
The global shipment of ZTE's smartphones reached to 5.6 million units in 2015. "Compared with 2014, the sales volume rose 400 percent in the European market", said Zeng.
According to Zeng, last year, ZTE became the third biggest smartphone vendor in Russia, after Apple and Samsung. The brand also entered the top five list in Australia.
The company has set up a new goal to ship 60 to 70 million units globally in 2016.
Although the growth rate of global smartphone sales has recently witnessed a slowdown, Zeng expressed that the potential for growth still existed within the sector, and the replacement and upgrade market for existing users leaves market potential for high quality and innovative-driven products.
According to Zeng, the company has been working on smartphone-centered virtual reality (VR) devices which will launch soon.