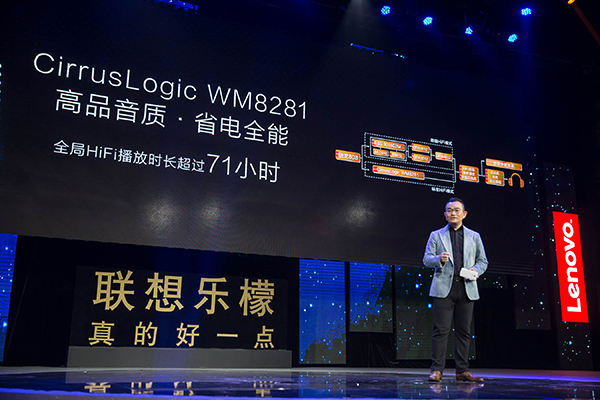 Yang Jun, vice president of Lenovo and general manager of the smartphone division in China, speaks at the launching ceremony of Lemeng X3 in Beijing on November 16, 2015. [Photo/Provided to chinadaily.com.cn]
Based on reengineering and integration of the whole smartphone industry chain, Lenovo offers a win-win ecosystem with the greatest value to users, said Yang Jun, vice president of Lenovo and general manager of the smartphone division in China.
The ecosystem is comprised of hardware, content service and Lenovo Life (a daily life assistant with cloud service, game account and app store through Lenovo ID) , Yang added, when Lemeng, Lenovo's first Internet smartphone brand, launched X3, its flagship entertainment smartphone in Beijing on Monday.
Its Qualcomm Snapdragon 808 processor, Sony IMX230 2100 megapixel camera, Dolby Atmos and innovative ComfortEXT speakers make Lemeng X3 a "full-time HiFi" smartphone. It's priced at 2,999 yuan and is available to be used with all three mobile operators.
Besides the smartphone, Lemeng also debuted Lemeng MiniStation, an entertainment terminal invented with Tencent and the Lemeng VR helmet, jointly produced by Lenovo and ANTVR.
For content, Lenovo gave up pre-installing Apps. Through cooperation with leading online music, game and video providers, the Lemeng ecosystem supplies a large amount of quality content.
Lenovo Life for Lemeng X3 also includes integrated O2O daily services that offers direct access to the necessities of life with the activation of the Lenovo ID.
Lenovo Group Ltd, the world's biggest personal computer maker, reported a net loss of $714 million,the first for the company in the past six years, on November 12, for the fiscal second quarter that ended in September, due to higher restructuring costs.
Lenovo said its net losses are primarily due to the $923 million one-time costs, comprising $599 million restructuring costs and $324 million losses from cleaning up unsold smartphone inventories.
According to consulting company Strategy Analytics, Lenovo accounted for 5.3 percent on global smartphone market in the second quarter, higher than 4.8 percent in the first quarter, but still lower than 7.6 percent from the same period last year.