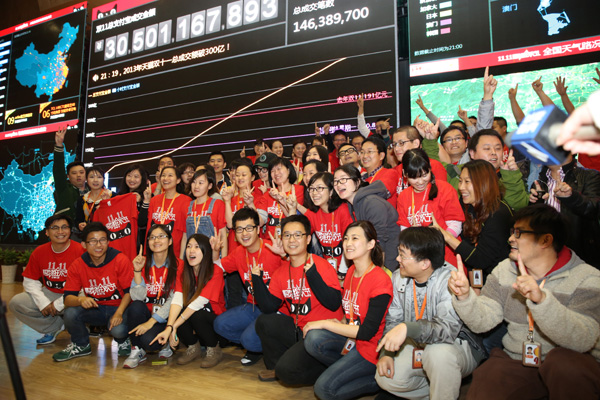 Alibaba employees pose for a group photo when the company saw its online sales exceed 30 billion yuan ($4.8 billion) on Nov 11, 2013. Some of these may have joined the Ex-Alibabaer Club. [Photo/China Daily]
Renowned as the "Huangpu Military Academy" of China's Internet industry elite, Alibaba Group Holding Ltd has not only produced legendary achievements but also benefited those who have graduated from this "top school".
The Ex-Alibabaer Club, a non-profit organization composed of former Alibaba employees that focuses on furthering Alibaba's unique vision and culture of cooperation, is such a platform to benefit Alibaba "graduates".
Initiated by former Alibaba employees, the organization has now attracted investors, startup founders, and other former Alibaba executives, serving more than 25,000 former Alibaba employees all over the world.
Savio Kwan, former Alibaba chief operating officer, John Wu, former chief technology officer, and David Wei, former Alibaba B2B chief executive officer, are among the members of this exclusive club.
The club has organized a number of free online and offline activities for its members. It has also worked with venture capitalists to connect club members with interested investors.
About 80 volunteers work in Hangzhou, Beijing, Shanghai, Guangzhou, Shenzhen and Silicon Valley to help club members find better opportunities. According to Sean Shou, a former member of the founding team of Taobao.com and currently the director of the organization, it is the Ex-Alibabaer Club's mission to serve 100 listed companies founded by club members.
Yang Xuesong joined Alibaba in 2000 as the only fresh graduate from Shanghai admitted to Alibaba. But just one year later, he quit and went back to Shanghai to set up a new company with some other partners.
"I have always dreamed of owning a business of my own. But the first company turned out to be an abortive attempt, mainly because I was too young at the time and not very well prepared," he said.
In 2004, Yang had made enough preparation to set up his own business, and tried to set up his first software company as a part-time worker. Two years later, he started to work full time for his own business and established Shanghai Aresoft Information Technology Co Ltd, a specialist Internet finance technology service provider.
The initial capital of 200,000 yuan ($32,280) was another asset he obtained from Alibaba.
"My goal of operating this company has always been quite clear-cut, which is to serve customers in the first place. As a result, Aresoft achieved an annual sales revenue of nearly 30 million yuan last year with its payroll approaching 100," he said.