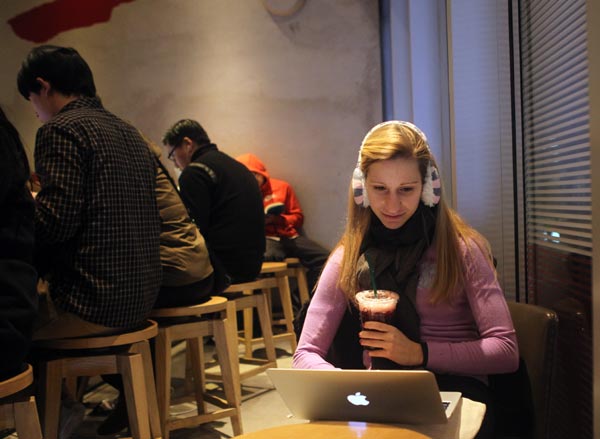 An expatriate customer surfs the Internet in a cafe in Beijing. Internet connection speed in China was only 3.4 megabytes per second at the end of 2014, ranking 82nd globally. [Photo/China Daily]
Premier Li's remarks prompt industry to chart steps to boost speed and reduce fees
China is likely to cut mobile Internet service charges and increase traffic speeds, industry experts said on Thursday after Premier Li Keqiang's comments on the expensive, mediocre-in-speed service spurred heated discussion.
The Ministry of Industry and Information Technology, the industry regulator, has pledged to find ways to lower prices of the fourth-generation telecom services, which were put into use less than two years ago.
"The construction of the 4G network and speed enhancement will be the main focus for this year and we are committed to provide a faster network at lower expense," the ministry said.
In a meeting with entrepreneurs and economists on Tuesday, Li flayed China's mobile Internet services and said smartphone users would ask for free Wi-Fi connections as the mobile Internet services are "too expensive".
"It is difficult to imagine how underdeveloped our information infrastructure is," he told the meeting at one point.
Xiang Ligang, a telecom researcher and founder of industry website cctime.com, said the average mobile connection speed in large and medium-sized Chinese cities are no worse than that of the United States and Western Europe. Poor 4G services in less developed small towns and rural areas have, however, dragged down the overall speed.
The worldwide average Internet connection speed was 4.5 megabytes per second at the end of 2014 while the speed in China was 3.4 mbps, which ranked the country 82nd globally, according to Internet service provider Akamai Technologies.
The country with the fastest Internet connection was South Korea, whose average speed exceeded 22 mbps, according to the company.
Industry players have an ambitious plan to lift mobile Internet connections in the country, the world's largest smartphone nation. China's three telecom carriers are pushing 4G services to smaller cities and trying to attract more lower-end 4G users.