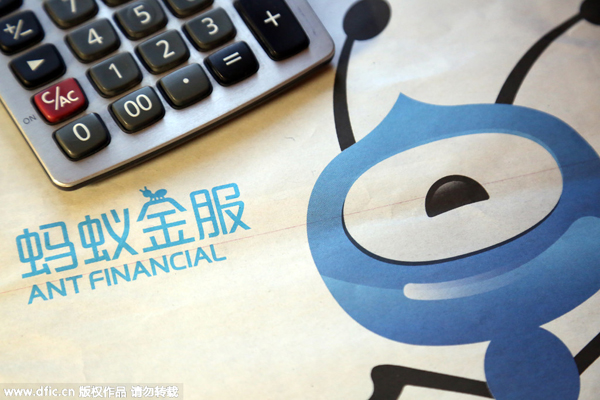 An advertisement for Ant Financial Services, an affiliate of Chinese e-commerce giant Alibaba Group, is pictured in Shanghai, China, Oct 16, 2014. [Photo/IC]
Alibaba arm launches stock index based on e-commerce deals
The dream of getting rich quick is luring more people into China's bullish equity market. But many of them have no clue about stock picking, and they need more than beginner's luck.
They might get some inspiration from Zhejiang Ant Small and Micro Financial Services Group Co Ltd, the finance arm of Alibaba Group Holding Ltd, which on Thursday launched a stock market index that tracks e-commerce activity to gauge listed companies' performances.
Ant Financial plans to use big data-the analysis of vast volumes of complicated information-to guide investment decisions.
The CSI Taojin 100 Index, the first to tap e-commerce data, includes 100 stocks in sectors ranging from garments to healthcare to beverages, Ant Financial said in a statement.
The index "weighs industries according to the growth in online transactions, price levels and the supply-demand situation in China", the company said. It expects that this analysis can offer insight into the futures and fortunes of many industries.
Ant Financial operates China's largest online payment tool Alipay, which has 180 million users.
The product is Ant Financial's latest innovation in Internet finance. The company was behind the popular online wealth management product Yu'ebao, another first that allows users to buy money market funds online and earn interest on a daily basis.
Bosera Asset Management Co Ltd, one of Ant Financial's partners in the index venture, said that Taojin 100 is a revolutionary product that has the Internet in its genes, rather than one that merely uses the Internet as a sales channel.