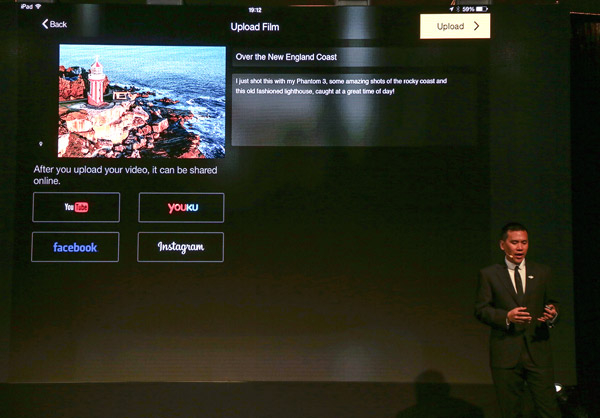 Eric Chang, Director of Aerial Imaging, speaks at a product release event held on April 8, 2015 in New York by Chinese drone maker DJI. [Photo provided to chinadaily.com.cn]
Chinese online streaming website Youku Tudou Inc has joined hands with domestic drone maker DJI to integrate online video sharing with the latter's newly launched devices on Wednesday.
Three product release events were simultaneously held in New York, London and Munich by DJI, the world's largest supplier of civilian drones.
The company unveiled two new drones during the events, the Phantom 3 Professional and Phantom 3 Advanced priced at $1259 and $999 respectively.
The Phantom 3 Professional is capable of shooting 4K video at up to 30 frames per second, while the Phantom 3 Advanced records at resolutions up to 1080p at 60 frames per second.
The application packaged with the devices provides a "director" feature, which can automatically edit the best shots from flights into short videos that can be shared immediately after landing.
The upgraded app also allows pilots to live-stream their flights to online video sharing platforms, such as YouTube or Youku.
Youku live-streamed one of the events held in New York for the company's Chinese fans.
According to a statement from Youku, the company is the China-exclusive platform for DJI drone users to upload their videos straight to the web.
"Users of DJI drones already have been uploading videos to the Youku platform and they have become quite popular for the stellar imagery they capture," according to Youku's statement.
According to Frank Wang, CEO of DJI, the company has always been eager to provide "a top tier flight experience in one easy-to-use platform".
"We pride ourselves in creating a flying camera that fits in a backpack and can be ready to take professional quality videos from the sky in less than a minute," said Wang.
"Pilots, whether they are journalists, extreme athletes, or global travelers, will not just be able to share aerial videos of where they were, but will also be able to send a streaming-video link (via YouTube, Youku) to their friends and colleagues to show them the aerial perspectives of where they are right now," said DJI's San Francisco General Manager Eric Cheng.
"This has tremendous potential for changing the way we share experiences with one another," Cheng added.
DJI is based in Shenzhen, Guangdong province. It has grown from a small office in 2006 to a global workforce with offices in the US, Germany, Japan, Beijing and Hong Kong.
During an Interview with China Central Television in January, DJI Spokesman Michael Perry said that the company already controlled 50 percent to 60 percent of the China market.