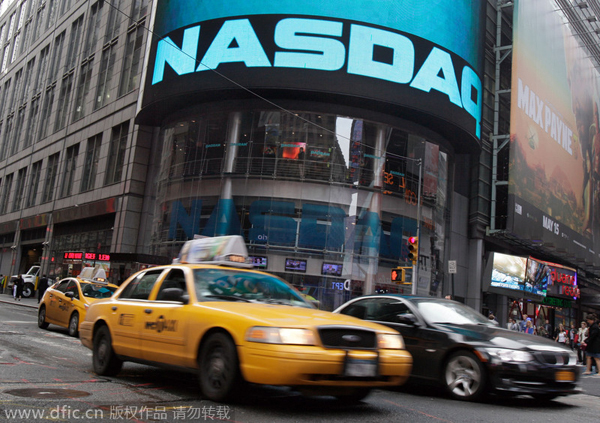 In this May 16, 2012 file photo, a taxi passes in front of the Nasdaq MarketSite in New York's Times Square.[Photo/IC]
Chinese stocks are making a strong comeback in the United States as the country's home market surged to a seven-year high.
Nineteen US-listed Chinese companies including Yanzhou Coal Mining Co, Youku Tudou Inc and cosmetic e-commerce Jumei International Holding jumped by more than 10 percent on Wednesday, compared to a 0.15 percent advance in the Dow Jones Industrial Average.
Yanzhou Coal rallied 23 percent to $11.86 in New York, after the government vowed to cut coal-generated electricity prices and further boost the economy.
Education company Tarena International Inc jumped 22.2 percent to $11.5, while online video platform Youku Tudou rallied the most in three years to $15.9, up 14.5 percent.
China Mobile Games and Entertainment Group, lottery website Shenzhen Yixuntiankong Internet Technology Co and social network platform Sina Weibo all gained more than 13 percent. Alibaba Group rose 3.9 percent to $85.4.
E-commerce operator Wowo Ltd climbed 2.9 percent to $10.29 in its first trading day after a $40 million initial public offering on Nasdaq.
US-listed Chinese technology stocks are catching up in valuations, said analysts, as according to Bloomberg the industry is traded in its home market at an average 220 times reported profits, the most expensive level among global peers.
The rally followed the steepest gain in three years in the Hang Seng China Enterprises Index. The gauge jumped 5.8 percent, while the benchmark Hang Seng Index added 3.8 percent.