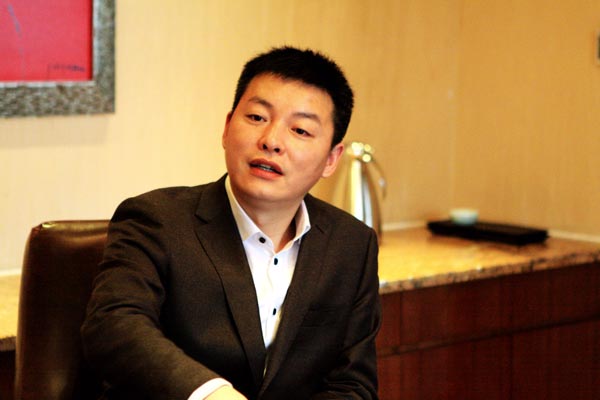 Feng Hairong, President of Qnvip.com, speaks to reporters in an interview in Ningbo, Zhejiang province, on March 27, 2015. [Photo provided to chinadaily.com.cn]
Qnvip.com, a local Online-to-offline (O2O) shopping website, is cooperating with digital TV service providers to reach more customers. It is also sending more local teams to select more merchants to work with throughout Zhejiang province.
Zhejiang Qnvip Technology Co Ltd, the company running the Qnvip.com website, signed contracts in Ningbo city with Ningbo Telecom iTV and Zhejiang Wasu TV on Friday. They will work together to allow customers to order local services just by pressing the remote.
Qnvip President Feng Hairong said "this move will expand our customers to those in their thirties and forties who spend more hours in front of TV sets, while the website still caters to younger people."
The company also integrated VIP discounts and local delivery services, as those who have greater buying power now rarely participate in group-buys. Group-buy customers are usually more price-sensitive, according to Feng.
He founded and ran a group-buy website, Milituan, for three years, before starting Qnvip.com in 2012. The local shopping website first focused on businesses in Ningbo city, in Zhejiang province.
Feng learned from his three year group-buy business experience that many merchants who offer higher quality products and who enjoyed better word-of-mouth did not offer group-buy deals. Moreover, customers with greater disposable incomes preferred more choice, rather than being bound by group-buy deals.
"They're not motivated by low prices for basic services, but demand social and personalized services."
The website targets mid- and high-end city-dwellers, who make frequent purchases for leisure. It will help local merchants and service providers reach target customers.
The company began to offer customers accounts to enjoy discounts, delivery services and feedback channels from May 2014.