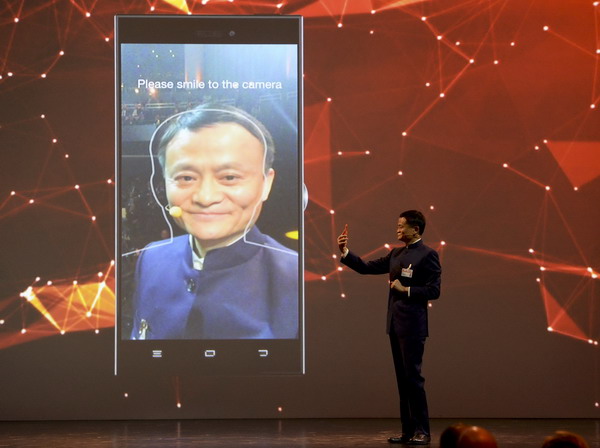 Alibaba founder and chairman Jack Ma makes a presentation during the official opening of the CeBIT trade fair in Hanover March 15, 2015. The world's biggest computer and software fair will open to the public from March 16 to 20. [Photo / Agencies]
HANNOVER -- The annual CeBIT trade fair, the world's largest in telecommunication and information technology industry, will open to visitors on Monday with China being its partner country this year.
The fair's chief Oliver Frese said that China holds an important position in global IT industry and he expected China to show itself as a strong IT nation in Hanover this week.
"I am sure that China will present itself as a strong IT nation, " said Frese, a member of the Managing Board of Deutsche Messe AG responsible for CeBIT, in a recent interview with Xinhua.
More than 760 Chinese exhibitors, over 600 from the Chinese mainland, will attend the trade fair, according to statistics from the organizer.
Frese said these exhibitors, under the motto "Innovation, Convergence, Cooperation", will bring "the biggest and strongest Partner Country presentation we've ever seen at CeBIT" and will show China's real IT strength.
"Chinese companies are not only able to produce components for smart phones or tablets, they are also able to be a manufacturer for high level computers," he said.
As examples, he said China has companies which are "global market leaders in their different sectors of industry" such as Huawei, ZTE, Alibaba, etc.
Other big names from China will include Lenovo, Haier, Datang Telecom, Neusoft and TCL.
"They (Chinese exhibitors) will show that they are able to be high level partner for the European market, and also for the world market," Frese said, adding that numerous small and medium-sized enterprises from China have shown in recent years that they also have innovation capabilities and "are able to produce high level products".
Another example for China's IT power is emerging startup companies.
"We see that companies like Xiaomi for example, they are able to be world market leader in only four or five years," Frese said.
The 2010-founded company now ranks as the third largest smartphone distributor in the world. Its co-founder and chief executive Lei Jun is scheduled to give a keynote speech at an IT summit between China and Germany at the first day of the trade fair.
"It's necessary to be an innovator and to invest in research and technology to get access to the world market, what we see is that China is doing that very well," Frese said.
The theme of CeBIT 2015 is "d!conomy". According to Frese, it is the combination of "economy" and "digital", means "IT is a driver of innovation in all economy parts, is really able to gain more business models and more products".
IT, he said, could make production line much more efficient and make the products at the end much more innovative. In the ongoing process of "Industry 4.0" in Germany, IT plays "the most important" and "an absolutely central role".
Earlier this month, China announced to implement "Made in China 2025" strategy and develop "Internet Plus" action plan with an aim to seek innovation driven development, apply smart technologies, integrate the mobile Internet, cloud computing, big data, and the Internet of Things with modern manufacturing, and to upgrade China from a manufacturer of quantity to one of quality.
Frese said China's plan to develop smart manufacturing brings opportunities to cooperation between both nations' IT industries. The year of "innovation cooperation" in 2015 will also benefit the long term partnership between Germany and China.
"We are really proud about that CeBIT's partner country showcase is also the start point of that innovation partnership in 2015," he said.