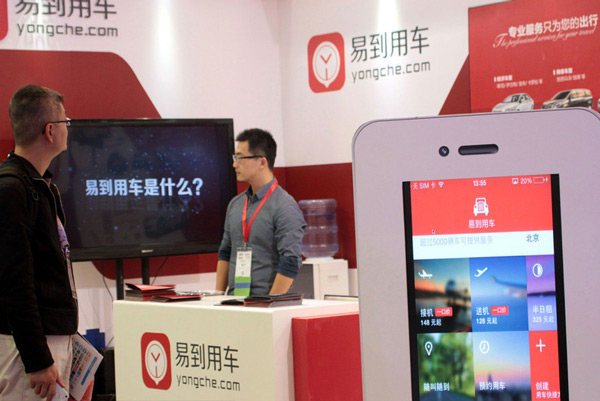 A Chinese employee talks with a visitor at the stand of online car rental service provider yongche.com or Yidao Yongche during the 2014 Global Mobile Internet Conference (GMIC 2014) in Beijing, China, May 5 2014.[Photo/IC]
In his speech, "The plan for work in 2015" made at the National People's Congress opening ceremony, Premier Li Keqiang claimed that new forms of Internet-based spending, including online-to-offline (O2O) services, will "come to thrive".
As an O2O business model in the transportation sector, chauffeur-driven car-on-demand services powered by the mobile Internet, have provide a new way to travel and are growing rapidly in China.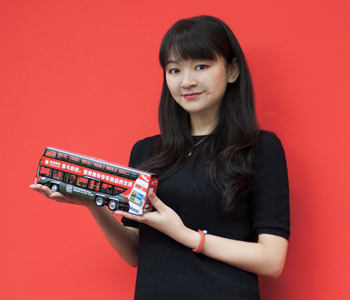 Zhu Yueyi,co-founder and vice-president of yongche.com [Photo provided to chinadaily.com.cn]
Here we present an exclusive interview with Zhu Yueyi, co-founder and vice-president of Yidao, or yongche.com, one of the major players in this booming market.
China Daily Website:
How do you view "mobile transport"?
Zhu:
The chauffeur-driven car-on-demand service is a new product that reveals how mobile Internet has changed people's travel habits.
If taxi-hailing apps are information-sharing hubs for drivers, taxi companies and individual passengers, then chauffeur-driven car-on-demand apps are not just an Internet-based service, but a service that disrupts the traditional car rental industry.
Before the birth of this new business model, the car rental market was not user-friendly as there was only one booking method and it was complicated.
In the past, customers who wanted to rent a car had to visit physical stores operated by vehicle rental companies and spend time on paperwork before they could switch on the ignition.
Previously, if you needed a ride to the airport, you had to book in advance, as the rental company needed to inform one of their drivers, and the customer might possibly be charged for a four-hour rent rather than a one-way rental.
The mobile Internet based chauffeur-driven car-on-demand service has liberated cars from traditional vehicle rental companies.
The market is a new battlefield for Yidao and other competitors. More products and business models will appear on the market in years to come and customers who require a better travel experience will be their target consumers.
China Daily Website:
How to understand "the merger is not necessarily good as dreams cannot be achieved by money",a public comment made on the merger of Yidao's two competitors, Didi and Kuaidi ?
Zhu:
The merger of Tencent-backed Didi and Alibaba-backed Kuaidi undoubtedly marks the beginning of the battle of taxi-hailing apps for the chauffeur-driven car market.