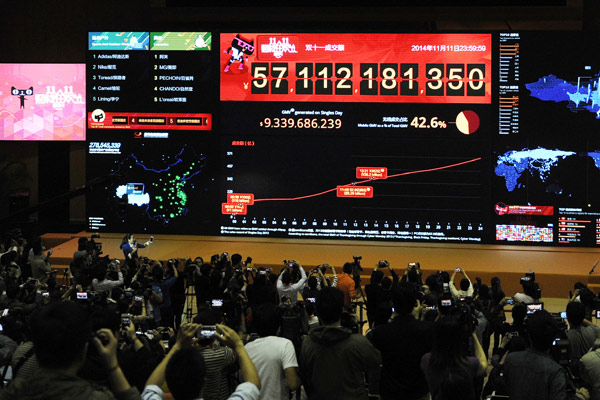 The turnover of this year's "Double 11" shopping festival reached 57.1 billion yuan ($9.32 billion), as shown on the screen at the headquarters of Alibaba Group Holding Ltd in Hangzhou, Zhejiang province, on Wednesday. [Ju Huanzong / China Daily]
Unlike visiting brick-and-mortar stores, online shopping may seem a lonely experience as there are no salespeople fawning on you or recommending things that they think would interest you.
Though they lack in human interaction, online websites do know what you are looking for, thanks to big data technology.
Big data usually includes data sets with sizes beyond the ability of commonly used software tools to capture, curate, manage, and process data within a tolerable time.
The real impact of big data in online shopping was evident after the recently concluded "Double 11" shopping festival. Shoppers could find slightly different front pages when they visited Taobao and Tmall, the two major online websites of China's e-commerce giant Alibaba Group Holding Ltd. Based on previous shopping records, Alibaba recommended goods that suit your tastes and needs, to ensure that there is something that will certainly interest you the moment you click on the website.
It is the use of these imaginative and high-tech skills that has enabled the Hangzhou-based company to set a Guinness World Record by scoring 57.1 billion yuan ($9.3 billion) of sales within 24 hours on Tuesday.
According to a report by International Data Corp, the global market intelligence provider, the planning by companies involved in the online shopping festival and those hoping to take advantage of what is on offer, had been going on for several months with the help of cloud services and big data.
The report highlights how the use of big data is not just confined to providing consumer behavior data for advertising and promotional campaign purposes.
It has also helped e-retailers manage their online operations, inventory, and logistics more intelligently.
Apart from making recommendations, big data has also helped make consumption-related predictions based on shopping records.
In a bonded warehouse near its head office in Hangzhou, Zhejiang province, Alibaba and its partners stocked thousands of items such as infant milk powder from Germany and Australia, cosmetics from Japan and South Korea, and food seasoning and other food products from countries across Southeast Asia weeks in advance.
Most of these goods were shipped well in advance not because they were actually purchased, but in anticipation of being blockbusters during the online shopping event.
"About 70 to 85 percent of the merchandise that is being stocked in the warehouses are sold to end-users," said Wan Lin, vice-president of China Smart Logistics, a consortium of Chinese shipping and package-delivery companies in which Alibaba holds a 48 percent stake.
In preparation for the biggest online shopping day of the year in China, Alibaba's Tmall platform launched presales, which required shoppers to pay deposits for items they planned to buy, with the rest payable on Tuesday.
"The presale model can effectively improve the supply chain. A big data analysis based on presales performance can offer precise predictions on consumer demand, and therefore we can make better preparations in terms of stocks," said Wan.
Xuan Jie, deputy director of the cross-border e-commerce development office at the Hangzhou Export Process Zone, said that by analyzing previous shopping data it is easy to find what shoppers tended to buy last year.
In the Hangzhou bonded warehouse, for instance, infant formula were prepared in two- and four-can packs before customers placed their orders online.
"With pre-packing, workers at the warehouse can speed up the whole shipping procedure, which can ease the logistical capacity pressure during the Nov 11 festival," he said.