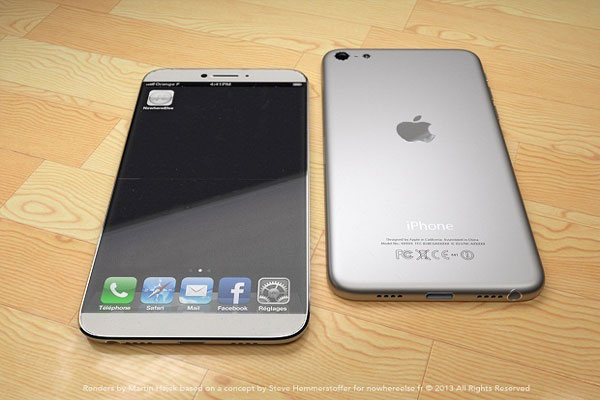 Rumored concept picture of iPhone 6 released by iPhoneSoft, Jan 3, 2014. [Photo/Zol.com]
With Apple Inc's yearly launch event just days away; there have been various rumors, leaked photos and reported specifications all over the Internet.
Compared with the current iPhone 5s, it is rumored that the planned launch of a new phone by the tech giant will be a big improvement on the present version. However, nothing can be confirmed until the launch on Sep 9.
Larger display
It is claimed that the new phone, which will be called iPhone 6, will come in two models - one with a 4.7-inch screen, and another with a 5.5-inch display. This will be larger than the current iPhone 5s, which has a 4-inch screen.
iOS 8 operation system
The iPhone 6 will very likely come with the latest iOS 8 mobile operating system, the current phone still uses the iOS 7.1.2 version.
Better hardware
The iPhone 6 will probably come with A8 processor, 2GB RAM, 1810 and 2915mAh battery capacities respectively for the 4.7-inch and 5.5-inch display.
Sapphire crystal display
Besides the retina screen, it is also rumored to feature a sapphire crystal display, but whether the costly material display will be launched on Sep 9 we will just have to wait and watch.
Following Apple's style of metal frame, mobile-phone maker Xiaomi released its 5-inch display with metal frame in July and Samsung debuted is Note 4 with 5.7-inch display in a metal frame on Wednesday.