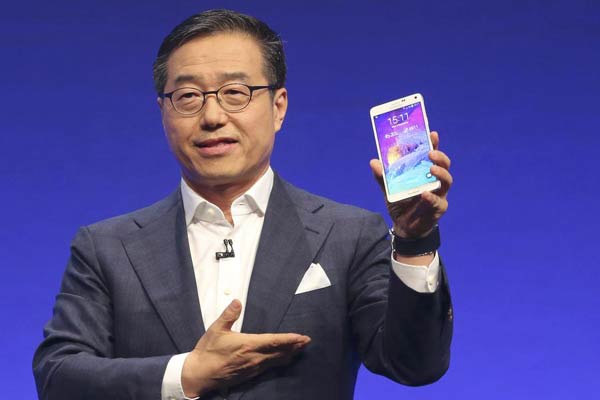 Samsung President DJ Lee presents the new phablet Galaxy Note 4 at the Unpacked 2014 Episode 2 event ahead of the IFA Electronics show in Berlin, Sept 3, 2014. [Photo/Agencies]
Samsung Electronics Co Ltd, the world's biggest mobile phone maker, unveiled new versions of its Galaxy Note smartphone on Wednesday after previous design miscues cost it customers in the large-screen phone market it pioneered.
The new Galaxy Note 4 features a crisper, 5.7-inch display in a metal frame, reflecting Samsung's latest design strategy to keep pace with rivals including Apple Inc, which is expected to launch its first large-screen phones next week.
The new model offers accessories designed to attract gamers and an improved pen stylus and related software as a handwriting alternative to typing on a keyboard. It boasts easier to use multi-tasking features that take advantage of its large screen.
The Note 4 is key to a recovery by Samsung Electronics, which faced initial derision at the idea of callers holding elephantine screens up to their ears. Since the Note's introduction in 2011, it has made 5-inch and larger screen sizes the standard for high-end phones as usage shifted overwhelmingly to reading and writing texts and emails or documents, using apps, watching
movie
s or playing games rather than calling.
Mobile phone analysts said that, while packed full of hundreds of features and many of the latest hardware specs, there is little in the Note 4 to excite new users.
"I think this is mostly an incremental change," Forrester analyst Thomas Husson said. "What is missing is a total experience on top of the device to really differentiate in the interchangeable Android device ecosystem," he said, referring to the closely coupled software and services Samsung needs to distinguish its devices from dozens of cheaper rivals.
Samsung Electronics' operating profit fell to a two-year low in the second quarter as it lost market share, despite still shipping nearly a third of all smartphones worldwide.
Research firm Canalys says Samsung lost its title as No 1 smartphone player in China, the world's biggest market, to Xiaomi Inc during the April-June quarter. It continued to lose market share in other emerging markets, analysts say, undercut in part by rivals producing increasingly attractive products at much lower prices in the lower end of the market.
Part of the blame goes to the Galaxy S5, which is seen widely as a disappointment since its global launch in April. Research firm Counterpoint estimates the flagship premium phone was outsold by the much older Apple iPhone 5S in May, and analysts say it failed to deliver major improvements from its predecessor.