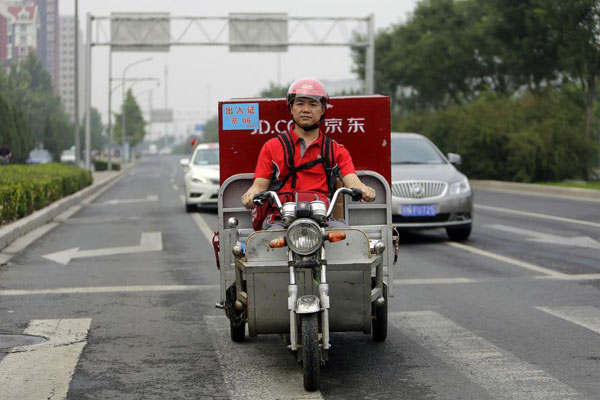 Richard Liu, CEO and founder of China's e-commerce company JD.com, rides an electric tricycle as he delivers goods for customers to celebrate the anniversary of the founding of the company, in Beijing, June 16, 2014. [Photo/Agencies]
JD.com Inc, China's second-largest business-to-customer online platform by market share, announced a jump of 100 percent year-on-year in order intakes on its annual promotional campaign on June 18, the first major sales event after the e-commerce leader's listing in the US in May.
JD.com said in a media release on Thursday that it witnessed 100 percent jump in order intakes on June 18 compared with the sales number on the same day last year. About 40 percent of the orders came from mobile devices, said the company.
Shen Haoyu, the chief executive officer of JD's e-commerce group, said that the strategic partnership with Tencent Holdings Ltd has given JD the access to the Internet giant's popular messaging apps-WeChat and Mobile QQ-which allows JD to reach the largest group of customers since it was founded 11 years ago.
The June 18 promotional campaign was created by JD.com in 2010 as an annual shopping event to showcase its birthday on June 18. Many of China's leading online retailers choose to launch similar promotional events in June in order to boost online sales and compete with JD.
Tmall, China's largest B2C online platform owned by Alibaba Group Holding Ltd, announced that it sold nearly 1.04 million units of cell phones over the 24-hour sales period.
However, insiders said the sales of JD's 618 shopping party cannot compete with Alibaba's annual Nov 11 shopping festival, which claimed sales of 15 billion yuan over the 24-hour sales event.
"JD's campaign is similar to Taobao/Tmall's Single Day event to increase its sales revenue, but the timing of the JD campaign is not ideal, as it clashes with the 2014 FIFA World Cup Brazil," said Forrester Research's Senior Analyst Vanessa Zeng.
"In turn, its advertising and promotional effectiveness is greatly diluted as 2014 FIFA World Cup attracts a lot more attention than JD 618," she said in a previous interview with China Daily.