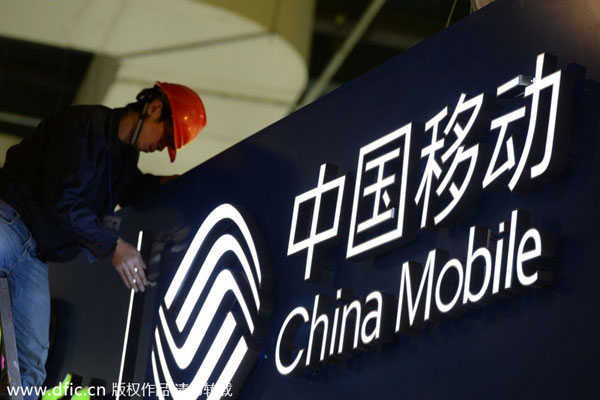 A Chinese worker installs a signboard of China Mobile one day before the opening of the 2nd China (Shanghai) International Technology Fair (CSITF) in Shanghai, April 23, 2014. [Photo/IC]
China Mobile is setting up a subsidiary to handle the spreading of "unhealthy information" on its network, sources told China Daily on Monday.
The new company will mainly deal with illegal advertising, harassing phone calls and malicious applications installed on smartphones, according to a China Mobile employee familiar with the issue.
China Mobile, the largest telecom operator by subscriber numbers in the country, will use two call centers in Central and East China's Henan and Jiangsu provinces to setup its information control arm.
The establishment date of the new subsidiary remains unknown.
Earlier this year, the Ministry of Industry and Information Technology urged the Big Three telecom carriers to fight unhealthy information plaguing China's mobile phone users.
As the nation's concern over terrorism and Internet security issues has increased in the past months, telecom services providers and Web-based chat platforms have been asked to take more responsibility filtering and detecting information that may be considered a threat to national security.
The carriers have pledged to launch "special movements" to erase illegal information on their networks.