Lenovo currently relies heavily on smartphones to cement its presence in the consumer electronics sector and also is gaining a sizable market share in the tablet market, researchers said.
Helped by strong sales of the Yoga series, endorsed by Hollywood star Ashton Kutcher, Lenovo is the third-largest tablet maker, taking nearly 6 percent of market share, according to local research firm Analysys International.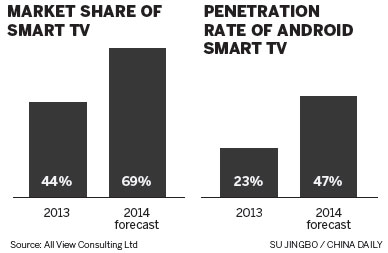 Apple Inc and Samsung Electronics Co Ltd sealed the top two spots by a large margin.
The penetration rate of smart TVs in China is approaching 70 percent this year, with more than 31 million devices sold, according to research company All View Consulting Ltd. "Smart TVs will erode the market share of traditional TVs," said Zhang Yanbin, the consultant's assistant president.
The upcoming FIFA World Cup in Brazil and favorable prices offered by e-commerce sites also are likely to accelerate sales, said an AVC report.
"But the problem is most of the so called 'smart TVs' are not smart enough, and customers have no idea how to use 80 percent of the features," said Zhang, adding that Chinese vendors have to refocus on product development while the competition heats up.
Internet companies, such as LeTV.com and Tencent Holdings Ltd, have stepped into the market followed by more hardware companies such as Lenovo, smartphone maker Xiaomi Corp and telecom equipment vendor ZTE Corp.
Last week, a joint venture partly owned by ZTE, based in Shenzhen, Guangdong province, launched a set-top box with a popular gaming feature. It's the first move from yet another player to join the battle for living room dominance.