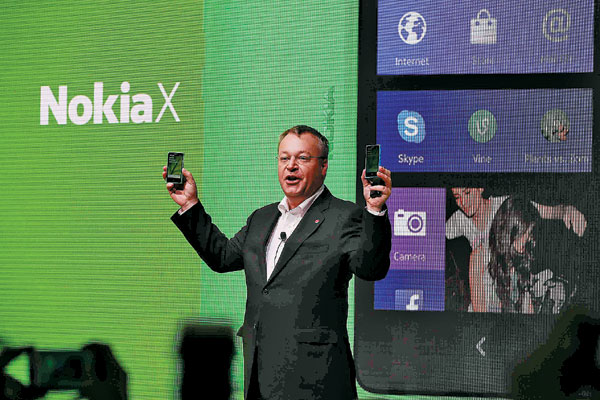 Nokia's Chief Executive Stephen Elop holds up the Nokia X at its unveiling at the Mobile World Congress in Barcelona, Feb 24, 2014. Gustau Nacarino / Reuters 
Finnish mobile phone vendor Nokia Oyj introduced its first Android-based smartphone to the Chinese market on Monday in the face of analysts expressing cautious optimism over whether the company can regain share in the country's fiercely competitive smartphone market.
It marks the first time Nokia has accepted Google Inc's Android mobile operating system and abandoned its strategy of 100 percent dedication to the
Microsoft
Corp Windows Phone platform for its smart devices, which started in 2011. The company launched three lower-end Android smartphones, called Nokia X, Nokia X+ and Nokia XL, at the Mobile World Congress 2014 held in Barcelona, Spain, on Monday.
"The Nokia Android phones are aimed at the developing markets," Stephen Elop, head of devices at Nokia, said in Barcelona. Nokia X will sell for 89 euros($122), X+ for 99 euros and XL for 109 euros. The Nokia X will go on sale immediately and roll out in most emerging markets. The other two handsets are expected to hit the market starting early in the second quarter.
Unlike traditional Android smartphones, Nokia's devices do not have Google Play Store, or other map and search engine services provided by Google. Instead, they have a tile-based user interface inspired by Nokia's Lumia Windows phone family, a Nokia Store for app downloads and some Microsoft services such as Skype, OneDrive and outlook.com.
Because China has long been Nokia's biggest single country market, the company is sparing no time in delivering its Android phones to the nation's potential customers. It partnered with JD.com, China's biggest independent business-to-customer e-commerce platform, to sell the Nokia X in the Chinese market on Monday.
"The in-depth cooperation with Jingdong brings the Nokia X to the China market in a timely manner. This reflects our deep strategic collaboration with our local channel partner," said Erik Bertman, the general manager of Nokia China.