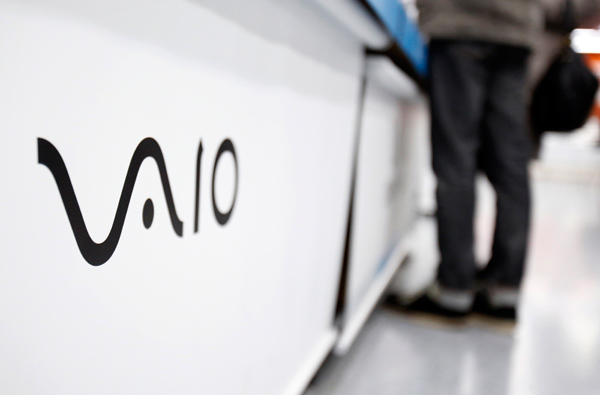 A logo of Sony Corp's Vaio is seen as a shopper looks at products at an electronics retail store in Tokyo February 5, 2014. [Photo/Agencies] 
TOKYO -- Sony Corp announced Thursday it had revised its full year forecast for the year through March to a group net loss of 110 billion yen ($1.1 billion) from a profit of 30 billion yen, owing to sluggish sales of its televisions and personal computers.
Sony, also known for its Xperia smartphones and PlayStation games consoles, also forecast an operating profit of 80 billion yen, from sales totaling 7.7 trillion yen.
In the April-December period, the electronics giant returned to profit to the tune of 11.17 billion yen, from a 50.87 billion yen loss logged at the same time in the previous year, the firm said.
Sony also said its sales were up 16.4 percent to 5.9 trillion yen, from the previous year, with its operating profit surging 70. 5 percent from the previous year to 141.45 billion yen.
The firm however confirmed Thursday it has reached a deal to sell its flagging Vaio laptop business to investment fund Japan Industrial Partners.
"Sony has determined that concentrating its mobile product lineup on smartphones and tablets and transferring its PC business to a new company established by Japan Industrial Partners is the optimal solution," Sony said in a statement.
The firms are planning to have the deal finalized by spring this year and just ahead of a planned consumption tax hike from 5 to 8 percent a month later that could negatively impact demand for consumer electronics here, as purchasing sentiment for non- essential goods wins as consumers here rein in spending.
"Sony and JIP will now proceed with due diligence and negotiate detailed terms and conditions of the business transfer, targeting the conclusion of a definitive agreement by the end of March 2014," said Sony.
"Following reevaluation of the product lineup, the new company is expected initially to concentrate on sales of consumer and corporate PCs in the Japanese market and seek to optimize its sales channels and scale of operations, while evaluating possible further geographic expansion," the statement added.
As well as making wholesale changes to its TV business, by restructuring the struggling section as a subsidiary and not one of the mainstay businesses of the firm, Sony also announced it will be cutting personnel in a bid to reduce costs.
Sony said that as part of the sale of its PC business, some 5, 000 jobs will be axed.
"For employees of Sony Corporation and Sony EMCS Corporation that are not hired by the new company or transferred within the Sony Group, Sony plans to also offer an early retirement support program to assist their reemployment outside of the Sony Group," Sony said in an official statement Thursday.