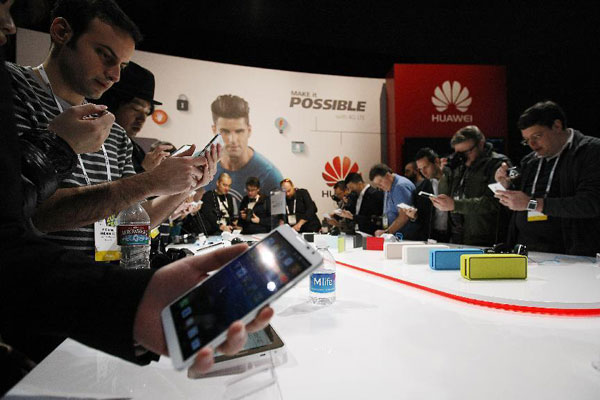 Journalists try the latest smartphone of China's Huawei during an Exhibitor Press Release of the 2014 international CES in Las Vegas, the United States, Jan 6, 2014. [Photo/Xinhua]  
LAS VEGAS - Italian reporter Vittorio Manti, who is covering his 10th International Consumer Electronics Show (CES), has witnessed growing recognition of Chinese brands for quality and price.
On the first day at the event, which runs from Tuesday to Friday, Manti headed straight to a press conference held by renowned Chinese electronics manufacturer Hisense, which was unveiling a new TV.
Manti told Xinhua Chinese brands had experienced "a major change in the last few years" and "several Chinese brands are focusing on establishing a brand and making their brand known, like Huawei, like Hisense".
His view is supported by the fact Chinese enterprises account for nearly one quarter of the more than 3200 exhibitors this year, according to data released by the CES' organizer, the Consumer Electronics Association (CEA).
Walking through different exhibition halls, it is hard to miss the Chinese brands. Their booths stand prominently alongside those of manufacturers from the United States, Japan and Korea.
Hisense's booth was in the show's central hall in 2013, just opposite US giant Intel's. The booth used to belong to Microsoft, who withdrew from the CES the same year.
It is believed Chinese enterprises not only need quality products but a respected brand name.
And Chinese manufacturers are working on achieving that through increased production capabilities, more advanced technologies and better product design.
"Chinese companies are ascending. To be successful globally, you have to have not only good products, you have to have respected brands," CEA President and CEO Gary Shapiro told Xinhua at the show.