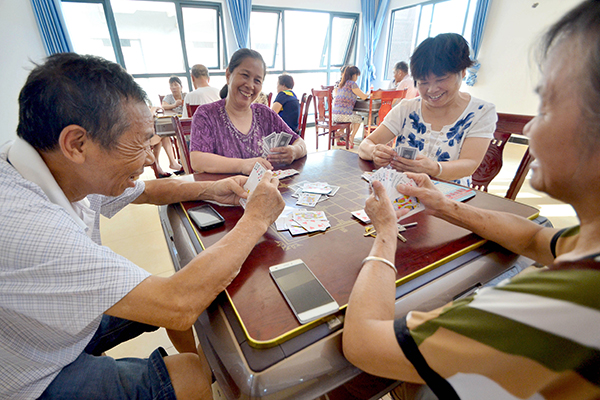 Elderly people enjoy themselves at a community service center in Chenzhou, Hunan province. [Photo/China Daily]
For years my parents, both in their 80s, have lived alone in an apartment in downtown Beijing by themselves.
A domestic helper comes twice a week to help them with household chores such as cooking, washing clothes, and cleaning the house. My mother, 82, runs most errands, buying groceries and occasionally picking up medicine at the hospital. My father, 86, who suffers from diabetes and high blood pressure, stays at home most of the time, watching TV or reading newspapers.
Both have pensions, of around 6,000 yuan ($910) each month, so they basically have nothing to worry about except their health.
Everything seemed to be going well, until recently when my father's health took a sharp turn for the worse. He seems to have become much more frail and feeble overnight. Each week as I drove them to restaurants for a family meal, I could feel the obvious changes in my father's physical and even mental strength. He started stumbling after walking only a dozen meters, even with the help of a walking stick. He has to struggle standing up from his seat at the dining table. He is even turning quieter, speaking much less and slowly, in sharp contrast with his eloquence that used to impress me during our previous get-togethers.
My mother told me that she found my father sometimes messing things up at home, such as spilling food when eating alone. Worse, he once fell on the floor and could not stand up by himself. She has found it impossible to deal with all the troubles.
So now it seems I have to consider how to deal with a common problem that each family faces: care for the elderly. It is an issue with a rising sense of urgency as the country is aging rapidly.
By the end of 2014, the number of people aged 60 and above in China had reached 212 million, or about 16 percent of the total population, according to official figures. In 2050, that number is expected to more than double, to account for one-third of the total population.
While the problem poses tremendous challenges for the government, which has to ensure its pension fund and welfare institutions can accommodate the rising number of senior people, growing by around 10 million each year, it also means huge business opportunities for related industries.
Wu Xiaobo, a celebrity finance and economics commentator, has forecast that the elderly care sector will surpass commercial property to become the largest industry in China, by being worth more than 10 trillion yuan in 15 years.
I have searched the internet and consulted some friends to get information on possible healthcare options for my parents. Most centers that are available are private ones, located in the city suburbs, and cost up to 8,000 yuan per month depending on services, facilities and health conditions of applicants. The price tags are higher than most people can afford.
The few public ones, with better locations and much lower costs, at about 3,000 yuan, are basically impossible to get in as the waiting time for admittance can easily be more than 10 years.
And my parents are strongly against the idea of spending their last years in a care center. They prefer to stay at home and find someone to look after them.
So in the end, I found myself at a service center that provides domestic helpers located in the basement of a building near my parents' neighborhood. It was still a buyer's market, as a group of middle-aged women from rural areas in Anhui, Shaanxi and Gansu provinces waited there to be hired, for a monthly salary of around 3,000 yuan. I doubt they had any professional training to attend to the elderly. But right now they seem the best candidates to whom I can entrust my parents to.
The elderly care sector may still be at a rudimentary stage. But I am sure it has a promising future, given the sheer size of China's elderly population.
And I have bet on it, with my first investment in a fund dedicated to the sector.