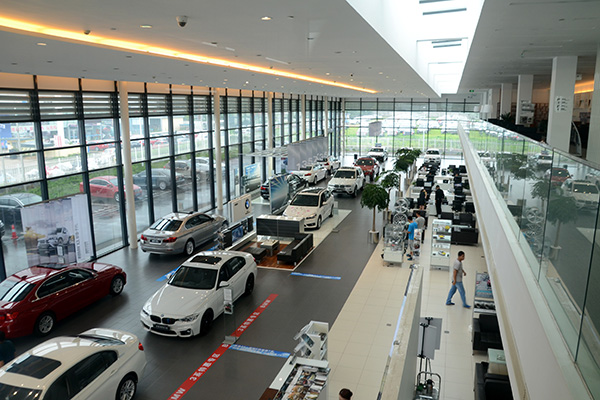 A 4S auto service outlet in Rizhao, Shandong province. [Photo provided to China Daily]
Sitting behind the wheel, I habitually tune into FM103.9, a traffic-focused broadcasting service in Beijing. With traffic jams commonplace in the Chinese capital, many drivers, me included, sometimes turn to the radio station for tips to avoid congested roads, especially during rush hours.
I would consider myself one of the lucky few as I stay relatively close to the office. So unlike most others, I am not stuck in massive traffic jams very often. But still I make it a point to tune into the Auto Services Hotline, an interactive program that discusses automobiles, their usage and maintenance services.
The reason why many drivers like me vouch for such services can be traced back to the miserable experiences that we have had at auto service outlets. Being overcharged and offered unnecessary services are the most common complaints.
Listening to these complaints often takes me back to a point in time, when I had to send my compact car for its service to an authorized service station.
At that time, regular maintenance services usually cost less than 300 yuan ($50 at today's rate) for a car like mine. But it proved to be a bitter experience for me as I was charged nearly three times the normal cost and forced to change several parts.
Imagine my chagrin when I was told by a technician that my new car had sprung an oil leak that needed to be fixed quickly. My plight was similar to that of a patient being told by a doctor that his life was in danger. Since I did not want to take any risks, I agreed to have the leak fixed.
When I reached the service station at the appointed day, the attendant told me that a broken sealant had caused the leak in the gearbox. The maintenance costs, with labor included, amounted to more than 3,000 yuan. Though shocked, I had no choice but to pay the same.
Since then, I have been listening to the Auto Services Hotline program for automobile-related information. For many of us it is the singular ray of hope in what is otherwise a highly disadvantaged market for car owners.
The car service market in China has been booming after more and more private cars entered the roads in the past two decades. Most of the car dealers follow the 4S (sales, services, spare parts and survey) system that was introduced from Europe in 1998. By the end of April, the number of such workshops had grown to more than 20,000 in the country and it is forecast to reach 30,000 by the end of this year.
The biggest flaw of this system is that ordinary consumers need to pay higher prices for availing the service facilities.
Earlier this year, the China Central Television uncovered several cases of 4S auto service outlets of reputed brands such as Dongfeng Nissan, Shanghai Volkswagen and Mercedes-Benz cheating or overcharging consumers in Hangzhou, Hefei, Shanghai and Tianjin.