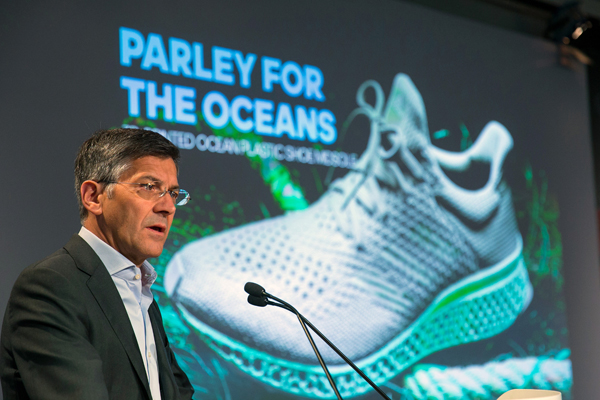 Herbert Hainer, outgoing chief executive officer of adidas Group. [Photo / Agencies]
Passionate soccer fan and runner leading group to new profit, sales records after 15 years at top of adidas
Herbert Hainer, chief executive officer of German sportswear adidas Group, is savoring his last days at the helm of one of the world's most popular sportswear brands.
In September this year the German executive, who is an avid runner and a passionate football fan, will step down from his post after 15 years leading the sport-gear maker.
Under his leadership, the company has managed to register an impressive eightfold increase in market capitalization with the group now being valued at circa 24 billion euros ($26.6 billion), partly helped by its strong popularity in China.
In 2001, when Hainer took the reins of adidas, the Frankfurt-listed company was worth just under 3 billion euros.
"I am very happy and satisfied to look back over the past 15 years", noted Hainer with pride. "Together with my team, we have celebrated some special moments."
His tenure at the top of adidas will be remembered for having completed in 2006 the biggest takeover in the history of the sporting goods industry, with the acquisition of Reebok.
The veteran CEO now will close this important chapter in his life with a positive ending as the group expects to finish the year with record figures.
"We are on track again this year to set new records in terms of both sales and profit," said Hainer.
"In 2016, we anticipate sales of almost 19 billion euros - more than ever before in the history of this company".
The executive is confident that the company will undergo a smooth transition when incoming CEO Kasper Rorsted takes over later in the year, with China being a pivotal part of its growth plans.
Recently, Hainer granted China Daily an interview to discuss his legacy, the transition to a new management and the plans that the company has to keep its expansion going in China.
The following are the edited excerpts from the interview.
Will the change of leadership have any impact on adidas' strategy in China?
China is the second-biggest market for adidas Group globally. I'm confident that everything is on track for the company in China to achieve the goals outlined in "Creating the New 2020," adidas' latest strategy.
Kasper Rorsted comes to adidas with a strong track record and a wealth of experience. Both I and adidas Group have the utmost faith in his ability to successfully continue adidas Group's dynamic growth strategy and lead the company to new successes in the future, both in China and worldwide.
How is adidas affected by the economic slowdown in the Chinese market? Why is this a concern for adidas?
Adidas' performance over the last few years in China has been characterized by strong, double-digit growth.
Our recently-announced earnings results for the first quarter of 2016 revealed stellar 30 percent sales growth on a currency neutral basis.
Our new strategy, "Creating the New Greater China 2020," aims to achieve brand leadership over the next five years in all key categories of football, running, women, kids and originals.
During this time, we also plan to open a further 3,000 stores across the country.
With sports participation continuing to rise across the country, I am very confident of adidas' ability to maintain and build upon this momentum over the coming years.
Part of your expansion strategy in China is to open more stores in lower-tier cities. What is the business potential there?
With many of them boasting over one million residents, 'lower-tier' cities are the true growth engine of China's economy.
There are increasing numbers of opportunities for adidas both within these cities and beyond.
Household incomes are rising rapidly throughout China and, at the same time, consumers are becoming increasingly sophisticated in their demands for high-quality, premium-priced products.
We expect a great deal of our growth over the next few years to come from the kinds of regions you mention.
Chinese women seem to be increasingly developing a passion for running and yoga. How is adidas reaching out to female customers in China? Is this an important segment for the sports brand?
Yes, it's an extremely important segment for us.
Women's sport participation in China has been on the rise for a number of years and we have been very successful in leveraging this trend in order to grow our business.
In 2013, we launched our first women's campaign and a year later we opened our first ever women's segmented retail store in response to consumer insights showing a clear demand for such stores.
We now operate a total of five such outlets throughout China with plans for a further 15 by 2020.
How can adidas benefit from China's booming sports industry?
The Chinese government is promoting sport as a key priority - both to improve public health and boost China's prestige in the global sporting arena.
A massive health and fitness trend is unfolding in China with growing numbers of people seeking to make sport an integral part of their lives.
The ongoing development of China's sports industry not only has a positive effect on our sales growth but also provides adidas with the opportunity to create a lasting and authentic legacy in this country of sporting excellence.
How is the increasing interest of Chinese in soccer going to affect your sales of football gear?
The Chinese government is keen for the country to become a global soccer 'powerhouse' over the next few decades and this is a goal we're fully backing through our landmark collaboration with China's Ministry of Education.
Now approaching the second year of our three-year partnership, adidas will continue to deliver dedicated programs targeting talented young soccer players and trainers through PE classes, coach training courses, player development programs as well as summer and winter camps.
It makes good sense from a business perspective to play a key role in developing China's sporting capacities at this key stage. It also helps bolster our credentials as China's leading soccer brand.
Is adidas investing more resources in increasing its presence in online shopping channels in China?
We are on track to grow our e-commerce business even further between now and 2020.
We already have an online adidas flagship store on Tmall and a thriving adidas-owned online retail store.
Our ultimate goal is to provide our consumers with the ability to interact with our brand anytime, anywhere - whether in-store or online - 24/7.
We want to make buying our products and getting up-to-the-minute expert product advice as easy and convenient as possible.
This omni-channel approach encompasses social media, mobile apps and online ordering in addition to the brand experience in our physical stores, in order to make the consumer experience seamless across all touch points.
CV
Age: 62
Career:
2001 onwards: Chief executive officer of adidas Group
2000-01: Deputy chairman of the executive board of adidas-Salomon AG
1997: Member of the executive board, adidas Group
1987: Joined adidas Group
Education:
Degree in business studies
Family:
Married with two daughters