Geely swoops on stake in Saxo Bank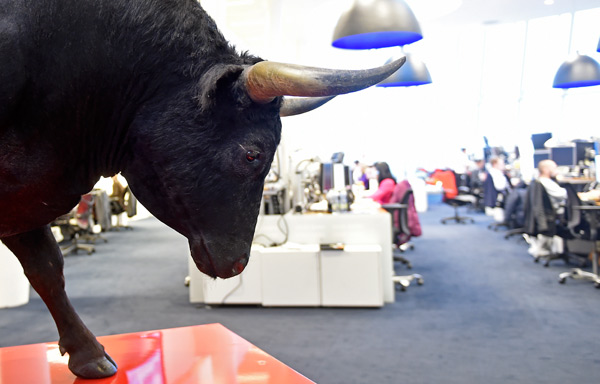 A bull statue is pictured in an office of Danish Saxo bank in Copenhagen. REUTERS
Zhejiang carmaker Geely Holding said it will buy up to 30 percent in Saxo Bank, the Danish investment bank specializing in online trading and investments, to tap into the Scandinavian and international financial services market.
The acquisition will make Geely another Chinese group to hold the most shares in a European financial services provider, after Chinese conglomerate HNA Group last week became the top shareholder in Germany's Deutsche Bank by raising its holding to 9.92 percent.
An announcement from Copenhagen-headquartered Saxo said on Friday that co-founder Lars Seier Christensen agreed to sell his 25.71 percent stake to Geely International Hong Kong, a subsidiary of Zhejiang Geely Holding Group.
Minority shareholders of the bank are also expected to sell their stakes to Geely, taking the carmakers' acquisition to about 30 percent of Saxo. On completion it will become the biggest shareholder of Saxo, overtaking US investment firm TPG Capital which holds 29 percent, and Saxo co-founder Kim Fournais who owns 25.71 percent.
The deal is subject to regulatory approval and financial terms, and the transaction is expected to be completed by the fourth quarter of 2017.
Geely is not new to the field of Chinese companies buying overseas assets. It is widely known as the owner of Volvo Cars, acquired in 2010 and The London Taxi Co which was bought in 2013. Buying into Saxo, however, marks its first move into the financial services market.
Geely expects to expand its activities in the sector through the transaction, according to Daniel Donghui Li, chief financial officer and executive vice-president of Geely Group.
Geely said the deal would help it deliver synergies from the group's internal financial services operations and the wider Chinese market.
Despite its name, Saxo is not a conventional bank that focuses on lending and traditional banking businesses. Its income mainly comes from online trading platforms for multiple assets using financial technologies.
According to the bank, it has 1,600 employees in 18 countries including China, and made operating revenue of 2.9 billion Danish crowns ($427.7 million) last year.
The unlisted bank declined to disclose financial terms of the deal but market estimates put the deal's size at between $350 and $400 million.
Fournais who co-founded the Danish bank and still owns a 25.71 percent stake said Geely will help Saxo with its growth ambitions, if the deal is approved by authorities.
"I am confident that partnering with Geely creates an even stronger foundation to capitalize on the many global opportunities and not least in the growing Chinese and Asian markets," Fournais said.
Geely Group now has three sub groups and companies, namely Geely Auto Group (with its own auto brand Geely), Volvo Cars and Geely Commercial Vehicles. The group posted $26 billion in revenue and had total assets of more than $24 billion in 2016.