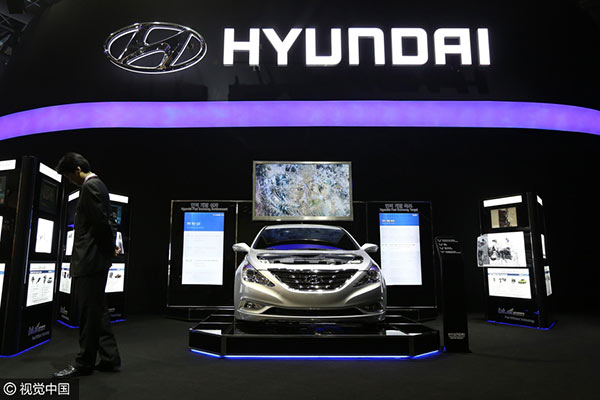 A man stands near a vehicle on display at the Hyundai Motor Co booth during the press day of the Seoul Motor Show in Goyang, South Korea, March 28, 2013.[Photo/VCG]
South Korea's Hyundai Motor Co said two new factories in China will produce more environmentally friendly vehicles and models targeting the world's biggest auto market, as the automaker strives to fend off growing competition from Chinese rivals.
Hyundai said in a statement on Tuesday it has completed its latest Chinese plant, its fourth, in Cangzhou, Hebei province, and will open another one in Chongqing next year. The addition of the two plants-each with annual production capacity of 300,000-will lift the total number of vehicles it can make in China, its biggest market, by about half to 1.81 million a year.
The focus on green cars is part of a new Hyundai strategy for China. The automaker, which ranks third in China sales together with affiliate Kia Motors, has seen its market share fall to 8.9 percent last year-a seven-year low-from 10.4 percent a year earlier as Chinese rivals lured away customers.
"We will accelerate our efforts to achieve a market share of more than 10 percent again with the opening of Cangzhou factory," Hyundai said. It didn't disclose how much it's investing in the new plants.
The South Korean duo will have total production capacity in China of 2.7 million vehicles once Kia's 890,000 capacity is counted in.
Hyundai said it aims to produce nine green vehicles in China by 2020, targeting 10 percent of its sales in the country by that year, to meet fuel economy regulations and compete with Chinese automakers, which dominate the segment.
The automaker said the new plants will build models of varying sizes to compete with low-cost Chinese rivals.
As part of its new strategy, Hyundai will boost the number of China dealerships to 1,400 by 2020, from 1,000 currently. It also plans to secure dealers in southwestern regions and small cities.
REUTERS