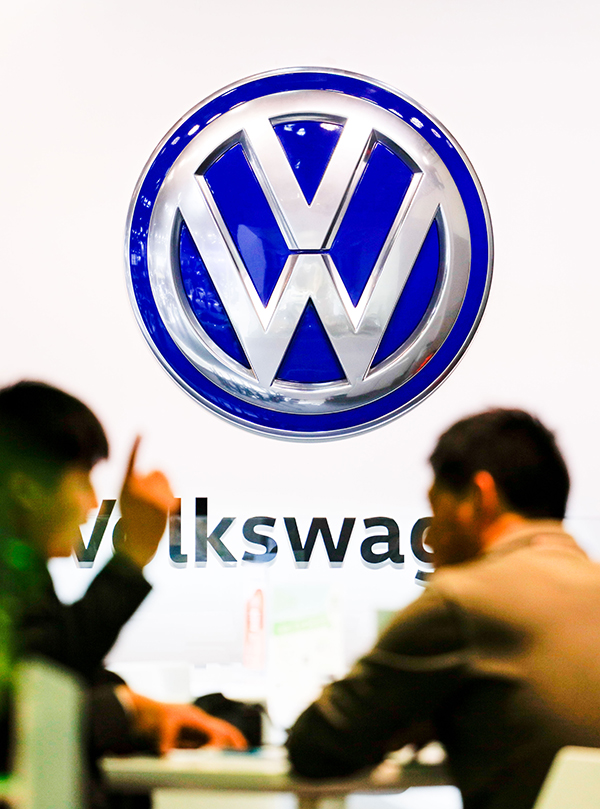 A salesman talks with a customer at Auto China 2016 in Beijing in May. [Zhang Haiyan/For China Daily]

German auto giant sets out strategy to consolidate its leading position in the world's largest market
Volkswagen AG's CEO Matthias Muller has made clear the company's commitment to rolling out more cars specifically designed for Chinese drivers, in a move to consolidate the German automaker's position amid increasingly fierce competition in the world's largest auto market.
Speaking in Beijing last week, Muller said the company's regional operations would work to get a better understanding of the demands of customers in specific markets, including China, as part of Volkswagen's "Strategy 2025".
"China is the most important market for us and it will determine both our future competition and development," said Muller.
He said that Volkswagen is currently seeing fiercer competition in China, not only from traditional competitors but also Chinese brands which "have shown great capacity and courage".
Statistics from the China Association of Automobile Manufacturers show that Chinese carmakers seized a 44.32 percent market share in the first four months of this year, a 1.53 percentage points increase year-on-year. In addition, four out of the five most popular SUVs in the Chinese market are domestic brands, with the only non-Chinese model being Volkswagen's Tiguan.
According to Muller, Volkswagen will launch at least five SUVs in China over the next three years and offer more choices including the Phideon in the sedan segment, in which the top-four bestselling models of the first four months of this year were all made by the German automaker.
"You will see the results of our efforts in the coming years," said Muller, who said that Volkswagen will continue its investment to enrich its lineup in China, with the amount earmarked for this year reaching 4 billion euros ($4.5 billion).
In addition to empowering important regional markets, the new strategy also focuses on building safer, more comfortable and more environmentally friendly cars.
Muller said: "The Strategy 2025 sets out what we will achieve between 2025 and 2030. I hope Volkswagen can find its new direction through the new strategy. We will continue to build on our traditional advantage of technological strength and meanwhile we will try to eliminate the negative aspects of being tech-centric."
Making mobility matter
Besides making cars, Volkswagen is also planning to turn itself into a provider of mobility solutions, having identified strong growth momentum and huge earnings opportunities in the sector in the coming years.
Late last month, it inked a $300 million deal with Israeli ride-hailing provider Gett, which is available in more than 60 cities worldwide.
Muller called the partnership with Gett the "first milestone" for Volkswagen to provide integrated mobility solutions.
"Alongside our pioneering role in the automotive business, we aim to become a world leading mobility provider by 2025," he said.
He said that while Volkswagen will remain largely focused on the traditional automotive business over the coming 10 to 20 years, it will also look at developing mobility services, as more and more young people want mobility but do not want to buy cars.
"There are many, many new trends, but instead of merely reacting to them, Volkswagen will be proactive in offering innovative solutions to our customers."