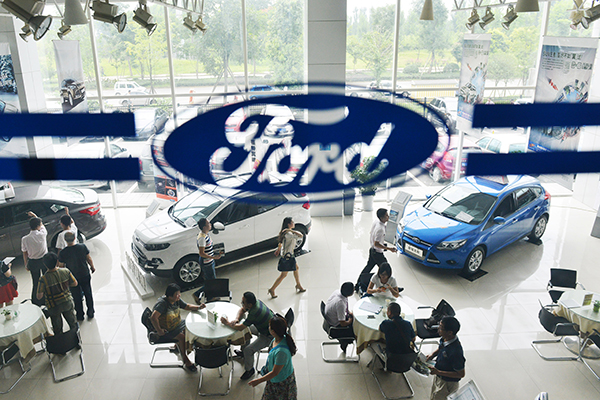 A busy Changan Ford 4S store in Chengdu, Sichuan province. [Mo Xiao/For China Daily]
China is set to play a more prominent role in Ford Motor's global growth strategy following one of the automaker's biggest management reshuffles in the country.
John Lawler, who served as Ford China's chairman and CEO since December 2012, has left Shanghai to serve as Ford Motor's vice-president and controller in the United States.
Ford's operations in China are now directed by Dave Schoch, group vice-president and president of Asia-Pacific. Schoch will add the title of chairman and CEO, Ford China.
Alvin Liu, vice-president of Asia Pacific for legal and government affairs, has been appointed vice-chairman of Ford Greater China in addition to his current responsibilities.
Schoch will work with Liu on strategies in China, including the import business, passenger car joint venture Changan Ford and commercial vehicle joint venture Jiangling Motors Corp.
"As our growth plans in China have developed, this market is delivering an increasingly important portion of our revenue and profits globally," said Ford President and CEO Mark Fields.
"Elevating the reporting of this business right now reflects China's importance in our profitable growth plan going forward."
Ford China's performance has been growing steadily. Annual sales in 2015 grew to 1.12 million from 582,467 units in 2010. It sold 479,542 cars in China in the first five months of this year, a 5 percent increase year-on-year.
The lineup of cars in the country has been enriched with a series of cars such as the seven-seat Edge SUV and Taurus sedan, and Lincoln has made a successful comeback to the Chinese market.
President of Changan Ford, Marin Burela, will step down from his post on July 1 to be replaced by Nigel Harris, current head of Ford India.
Schoch said: "Marin has made significant contributions to our operations globally, including leading the development of our global small car portfolio and building Changan Ford into a very successful business in the world's largest car market."
The six years Burela has spent at the joint venture since 2010 can be counted as a highlight of his 32-year career at Ford.
During his term, the joint venture's sales more than doubled to 836,000 units in 2015, with many new models introduced into the Chinese market.
Harris is an auto veteran with extensive experience in sales and marketing. Most recently, he served as president and managing director of Ford India.
It will not be the first time Harris has worked in China. He served as general manager for sales at Changan Ford from 2007 to 2012.