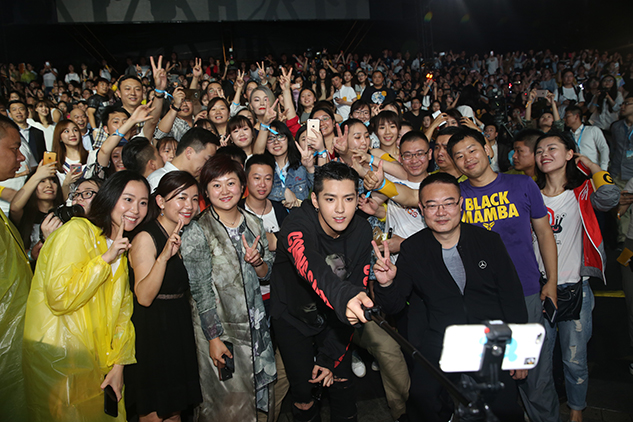 Kris Wu (center) takes selfies with smart car owners and fans at the carnival. [Photo provided to China Daily]
Daimler AG's smart brand, which is designed for modern urban driving, has built up a devoted following among city trendsetters in China since it entered the country's market in 2009.
The smart design philosophy is "FUN.ctional", and this sense of enjoyment has clearly struck a chord in the world's largest automarket, as evidenced by the presence on Saturday of more than 500 people who braved the rain to celebrate their love of the brand at the smart times 2016 carnival in Hangzhou, capital of Zhejiang province.
They are among some 86,000 smart owners who identify with the brand's stylish distinctiveness as well as its undeniable sense of fun.
"It has a smiling face, which means joy. It also breaks with tradition, which makes it a forward-thinking brand," said Mao Jingbo, executive vice-president for smart and AMG Sales Operations at Beijing Mercedes-Benz Sales Service Co Ltd.
She said: "It is always a step ahead, and it is, as our global head Dr. Annette Winkler said, for people who have a young mindset, no matter whether they are 18 or 80."
Mao told stories of a number of smart owners, including a group that drove en-masse all the way from the coastal city of Dalian, Liaoning province, to Lhasa, Tibet autonomous region.
"If you love the brand, you must be a joyful person, full of optimism and ready to share," she said, explaining that the compactness of smart cars makes them much more maneuverable.
Its size and drivability means that the smart brand is becoming an increasingly popular choice for those looking to express themselves in the midst of China's rapid urbanization.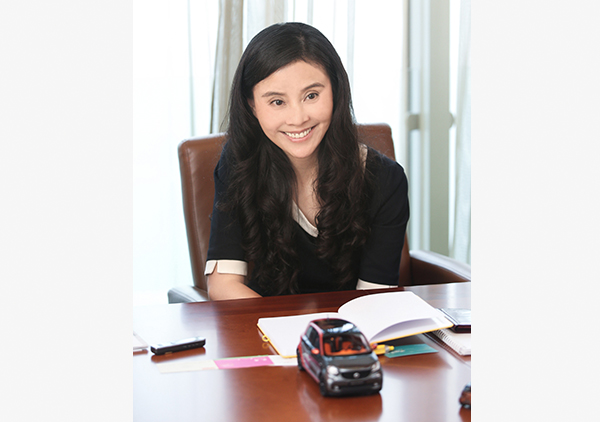 Mao Jingbo takes a round table interview to explain the concept of the smart brand. [Photo provided to China Daily]
At this year's smart times, fans were wowed by the new introductions to the brand's family: the All-New smart forfour, smart fortwo coupe and smart fortwo cabrio, as well as the appearance of China's new smart ambassador, pop star Kris Wu.
As a confident all-rounder, challenger and innovator, Wu represents the essence of smart, said Mao. "Brimming with ambition and a positive attitude, Kris' personal qualities fully embody smart's brand values, she said."
"More importantly, when smart and Wu join hands, they can bring out something new and more innovative," Mao added.
Wu participated in the design of the All New smart forfour Kris Wu edition, which among other things features an amber color panel and grey tridion safety cell.
The Kris Wu edition cars have proved a roaring success: 188 were sold online in just 25 seconds on April 26. Buyers, who were invited to take possession of their new cars at Saturday's event, were thrilled when Wu took selfies with them after they received the keys to their vehicles.
Kang Yi, director for smart Operation at BMBS, called smart times, which was introduced into China five years ago, the world's most influential gathering of car owners.
"As one of our exciting events, it attracts a great number of smart fans every year thanks to the creative and smart ideas on display," said Kang.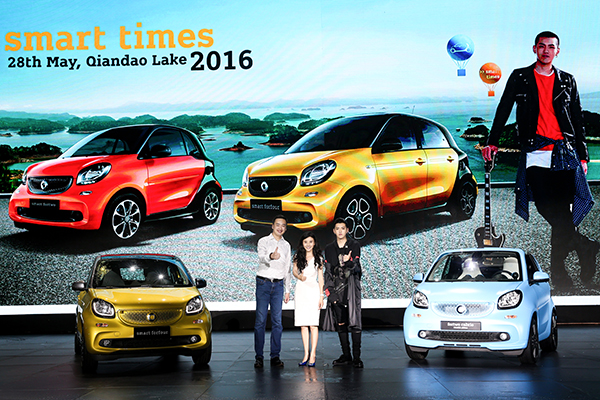 Kang Yi (left), director for smart Operation at BMBS, Mao Jingbo (center), executive vice-president for smart and AMG Sales Operations at Beijing Mercedes-Benz Sales Service Co Ltd and Kris Wu, China's new smart ambassador, present the smart brand's new family in Hangzhou, capital of Zhejiang province, on Saturday. [Photo provided to China Daily]
At this year's event, fans took part in a range of interactive sessions and experienced first-hand the sensation of driving a growing lineup of smart cars.
"Since the launch of the all-new smart fortwo, we have gone on to launch the agile yet practical all-new smart forfour as another pillar model. Additionally, the All-New smart fortwo cabrio, which had its Asia premiere at Auto China 2016 in Beijing, will be launched in July," said Kang.
He said those masterpieces have fully integrated smart's signature DNA and will ensure the brand's fan base continues to grow.
Mao said the rapid introduction of models into China, as well as those tailored for the Chinese market, such as the Kris Wu edition, shows the great importance the brand has attached to the country.
"The help and support from the global headquarters, and especially Dr. Winkler herself, will lay the foundation of smart's success in China," Mao said.
As a pioneer in urban mobility, smart designs and delivers stylish and convenient models which follow the "rear engine, rear drive" concept and are the shortest, most agile masterpieces in their segments.
Looking forward, the brand aims to continue its tradition of creativity and zest to fulfill its promise of delivering "a new urban joy".
"And whatever we do, we do it because our customers love it," said Mao.