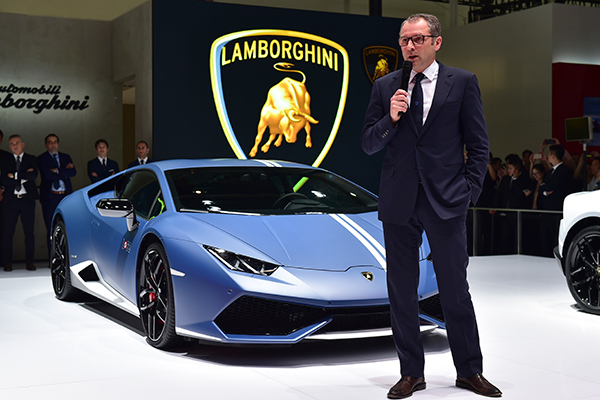 Lamborghini's Huracan family debuts China at Auto China 2016 in Beijing on April 25, 2016. [Photo provided to chinadaily.com.cn]
Lamborghini Automobili's newly appointed CEO unveiled the Huracan family on Monday at the Auto China 2016, during his first visit in the position to Beijing.
The Huracan family made its China premiere with three models, Huracan LP 580-2, Huracan LP 610-4 Avio limited edition, and Huracán LP 610-4 cabriolet.
Stefano Domenicali, CEO of Lamborghini Automobili, said,"The Huracan family has made 2015 the most successful year for the Italian brand's V10 models. A total of 2,242 units of Huracan has been delivered to customers last year, the first year the family launched in the market."
The Lamborghini Huracan LP 580-2 is powered by a 5.2-liter V10 natural aspiration 426 kW engine. The rear-wheel-drive sports car weighs less than 1.4 tons.
The Huracan LP 610-4 Avio limited edition, with only 250 units offered worldwide, accelerates in 3.2 seconds from 0 to 100 km/h. The V10 natural aspiration engine and seven-speed direct shift gearbox give the four-wheel-drive model a top speed of 325 km/h.
The Huracan LP 610-4 is powered by the same V10 engine and can accelerate to 100 km/h in 3.4 seconds from 0 km/h. Its soft top can be opened or closed in 17 seconds with one press when the car drives as fast as 50 km/h.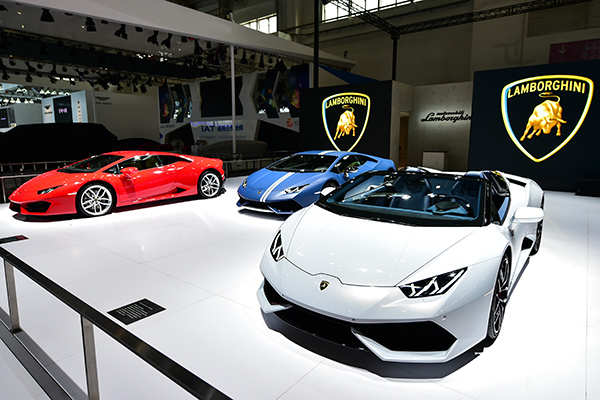 Lamborghini's Huracan family debuts China at Auto China 2016 in Beijing on April 25, 2016. [Photo provided to chinadaily.com.cn]