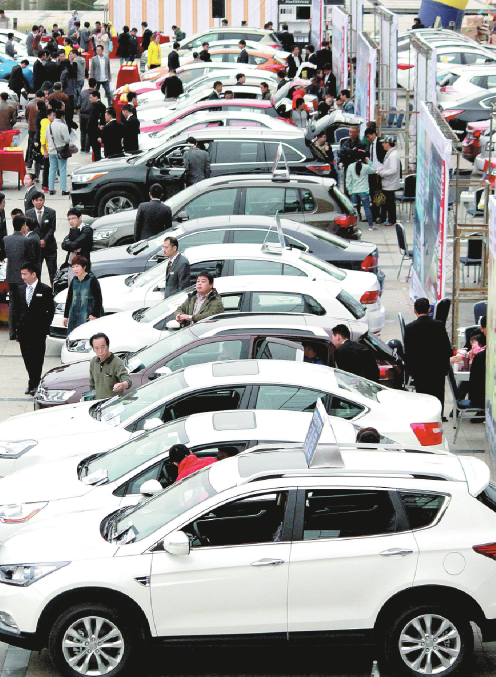 Vehicles on sale at an auto fair in Nanjing, Jiangsu province, in 2015. [Photo/China Daily]
The auto industry is being urged to pay more attention to social media as it may provide insight on potential customers.
One trend seen on Sina Weibo, the Chinese equivalent of Twitter, is that women are making up a larger share of car buyers, said Zhao Xinzhi, a senior auto analyst at Nielson China, at an annual forum organized by news portal Sina.com on Jan 20.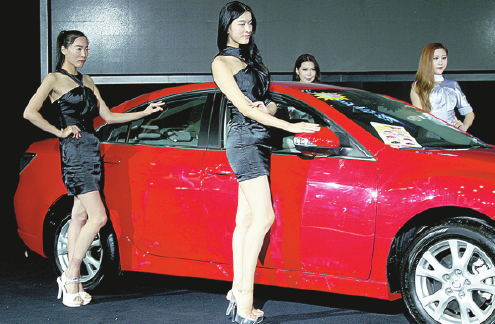 A group of models present a car at a three-day auto fair in Suzhou, Jiangsu province, in 2015. [Photo/China Daily]
Sina Weibo is part of the Sina.com group.
Zhao said a 2015 Nielson auto report on Weibo users shows that although 74 percent of those who expressed interest in cars were men, women accounted for 41 percent of those planning to buy cars and 50 percent of those planning to upgrade their cars.
Another interesting finding is that women were the decision-makers on 65 percent of car purchases during the year and 80 percent of women believed they were in charge of the family finances, said Zhao, advising those in the car industry that "what matters most is to study how females think about car brands."
Sina Weibo is one of the most popular social media platforms in China. Sina Data Center's statistics show that its monthly active users reached 222 million by the end of September 2015, a 33 percent surge year-on-year.
Of those users, 83 percent were aged between 17 and 33 and 76 percent had college education or above, the statistics indicated.
Some auto brands, including premium marques, have confirmed an increase in women in their buyer breakdown.
About 32 percent of FAW-Volkswagen Audi's consumers were born in or after the 1980s and 37 percent are women, said Ge Shuwen, executive deputy director of the unit.
Audi said it has taken heed of the trend and is enhancing its communications with young and female consumers.
Another trend Nielson's report shows is that those born in the 1990s are becoming the mainstay of potential car buyers and the process of their decision-making is different from those in previous generations.
"About half of first-time car buyers are the post-90s generation," Zhao said. "Our statistics show that 80 percent of them browse reviews of the cars they are considering.
"However, they might not necessarily buy cars designed with them in mind. What matters more is if the cars' image matches their self-image."
Tencent WeChat, another popular social media platform, is becoming another major tool for people to learn more about cars.
A survey by gsdata.com shows that more than 14,000 accounts offered automotive-related articles in 2015, and they received about 7 billion page views in the year.
Media outlets operated about 60 percent of those accounts while the rest were run by individuals.