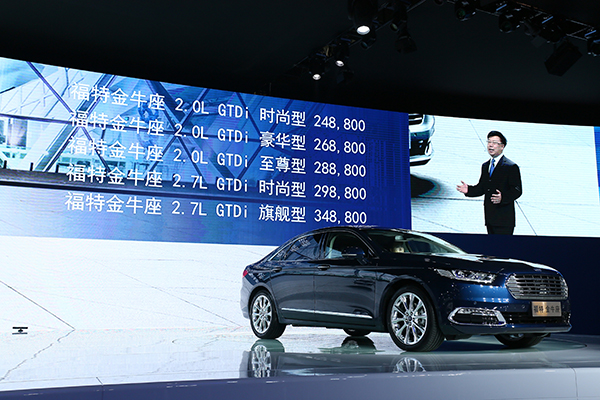 Changan Ford unveils its Taurus at the ongoing Guangzhou auto show. [Photo provided to China Daily]
Changan Ford is ready to compete in a new segment in the Chinese market, unveiling its new flagship Taurus sedan at the ongoing Guangzhou auto show.
The sedan sports an Eco-Boost V6 engine and a gearshift dial selector. It has a 2,949-mm wheelbase, longer than the Toyota Crown and the Buick Lacrosse, ensuring greater legroom for those sitting in the backseat.
It can emit sound waves to counteract engine noise and outdoor surroundings to ensure a quiet in-car environment. It also offers parking-assist functions and is equipped with the Ford SYNC 2 system that allows voice command control.
The car will meet both business and personal needs, said Marin Burela, president and CEO of Changan Ford, at a news conference in Guangzhou.
He said the car launch is timed with the New Year around the corner. His hope is that many will buy the car to signal new beginning.
Some analysts have wondered how well the Taurus will sell considering that the Chinese car market has seen its pace of growth slow.
Statistics from the China Association of Automobile Manufacturers show that auto sales in China from January to October grew only 1.5 percent from the same period last year.
Burela said he has no such concerns and cited the example of Ford's Escort model. Since it hit the market in early 2015, it has been one of the most popular family cars in the country.
"We spoke to the customers, we researched, we listened and then we concluded that the Taurus is the right vehicle for the Chinese market," Burela said.
"If we listen to our customers and deliver on our promise, if we never let them down. The sales volume will come."
Burela said Ford is planning to introduce a hybrid Mondeo and a plug-in hybrid C-Max for the growing Chinese demand for new-energy vehicles.
He said if a carmaker is providing a product that customers need and want, that is the right thing to do.
Speaking of the new normal of slower economic growth in China, Burela said it does add some pressure but has also prompted the automaker to become better prepared for the market.
He said Changan Ford is better braced for 2016 now that it has a larger production capacity, more models on sale, and a sales network of at least 850 dealerships across the country.