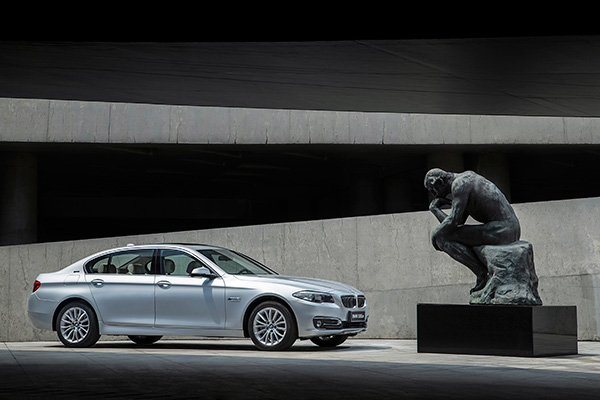 The first-ever plug-in hybrid business sedan under the BMW brand, the new BMW 5 Series Plug-in Hybrid, is officially launched in China. [Photo/China Daily]
Since early this year, BMW Brilliance's latest achievement in new-energy vehicles has successfully hit the market.
On Jan 15, the first-ever plug-in hybrid business sedan under the BMW brand, the new BMW 5 Series Plug-in Hybrid, or 530Le, was officially launched in China with a manufacturer's suggested retail price of 698,600 yuan ($110,660).
The NEV was produced in BMW Brilliance's plant in Dadong, Shenyang, capital of Liaoning province, using technologies at the forefront of the industry.
The vehicle is the latest achievement of BMW Brilliance in electric mobility. It is also a significant milestone in the market for luxury plug-in hybrid sedans in China.
"This is another 'first' for BMW Brilliance in the vision of e-mobility," said Olaf Kastner, president and CEO of BMW Brilliance Automotive Ltd. "In the past two years, we were recognized as the first premium joint venture brand to offer an NEV model, the ZINORO 1E, and with the BMW 530Le, we are the first to push out a premium plug-in hybrid business sedan. BMW Brilliance strives to be the leader in ushering the Chinese automotive industry to a bright and sustainable future."
The market launch of the 530Le is proof of BMW Brilliance's commitment to its localization strategy. The local BMW Brilliance R&D team played a key role in the development of the 530Le, and the road test of the NEV model in extreme weather was also undertaken in China.
Developed based on the successful BMW 5 Series Li, the 530Le combines tailor-made characteristics and the mature e-mobility technology and knowhow of the BMW i family.
It is the first plug-in hybrid business sedan to deliver luxury and prestige while also being fuel efficient and environmentally friendly.
The newly developed NEV marks a new milestone for the company, once again underlining the leading role of the BMW 5 Series Li in terms of technological innovation, offering Chinese customers the unique and premium experience brought by BMW eDrive technologies.
Owners of the BMW 530Le tend to be ambitious, modern and trend-setting business elites with vision. This customer group is capable of exerting immense influence on market trends and consumption, and also takes a great responsibility for the future.
The powertrain of the BMW 530Le originates from the revolutionary BMW eDrive technology.