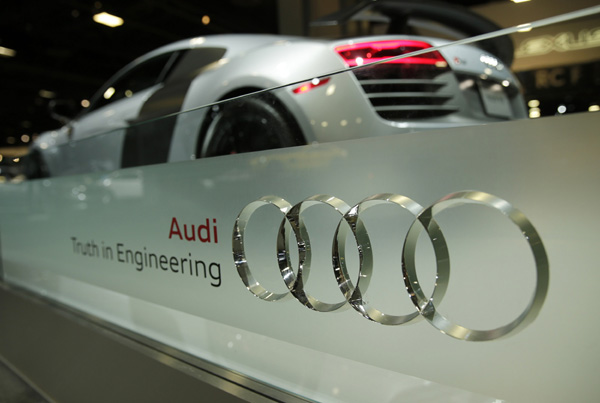 The Audi four rings logo is seen with an 2015 R8 Competition coupe at the press day for the Washington Auto Show in Washington January 22, 2015. [Photo/Agencies]
SHANGHAI - Nearly 90 percent of German car makers operating in China have lowered their performance targets amid the Volkswagen emissions scandal and slowing economic growth in China, a new survey found.
The German Chamber of Commerce in China said in the survey released Tuesday in Shanghai that German car makers with a high market share in China had been relatively immune to market fluctuations since the global financial crisis in 2008, but are now being affected.
The survey also found that German machinery manufacturers, which are closely linked to the auto industry, have been hit hard, with 57.9 percent of them reducing their performance targets.
The Chinese economy, which had a gross domestic product of $10 trillion in 2014, is adjusting to a state of slower and higher quality growth that has been called the "new normal."
The German Chamber of Commerce said German companies accustomed to rapid growth of the Chinese economy need to adjust to the new normal. Despite the slowing growth, China is still essential for German companies to make profits.
The survey included responses from 50 German firms doing business in China and about 1,200 companies in Germany.