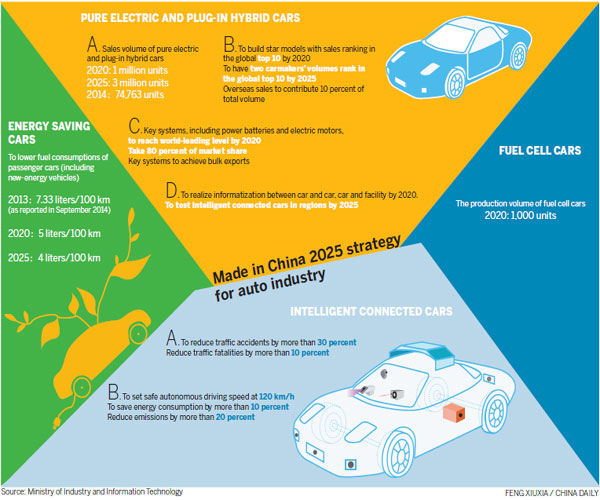 Renewed goals still ambitious but not 'unachievable'
China's new 10-year new-energy vehicle development plan has more objective, practical goals than the one released in 2012, after NEV sales in the first quarter accounted for only 5 percent of this year's original target.
The Ministry of Industry and Information Technology's latest plan said Chinese branded pure electric vehicles and plug-in hybrid vehicles should hit sales of more than 1 million units by 2020 and reach 3 million by 2025. The plan said exports should account for 10 percent of the sales.
The State Council's development plan issued in 2012 said the 2020 target for EVs and PHEVs was production of 2 million units and accumulated sales of 5 million units.
China originally aimed to sell 500,000 NEVs in 2015, however, just 26,581 EVs and PHEVs were sold in the first quarter of this year. Last year, 74,763 EV and PHEVs were sold, three times that of 2013.
EVs and PHEVs are the main categories of NEVs, which are powered by new energies rather than fossil fuels and include hydrogen fuel cell vehicles and solar energy vehicles.
Production of EVs and PHEVs is in full swing, while vehicles that use other energy sources are still in the testing stage.
Hubertus Troska, member of the board of management of Daimler AG responsible for Greater China, said: "China has the best regulation and strongest push to support NEV policies in the world. I think China has the vision and the potential to become the biggest NEV market in the world because we have more big cities in this country than anywhere else. NEVs are perfectly suited to inner city traffic, not so much for long distance."
The new plan said Chinese brands should take a more than 70 percent share of the domestic EV and PHEV market by 2020, and by 2025 the share should exceed 80 percent.
Under the plan, China will aim to have domestic EV and PHEV models with sales ranking in the global top 10 by 2020, and have two carmakers' sales rank in the global top 10 by 2025.
The target for overseas sales is that they should contribute 10 percent of total sales.
Economist Intelligence Unit's Managing Editor Ana Nicholls said: "The target of one million EVs and PHEVs by 2020 is an ambitious one, but unlike previous NEV targets, it is not unachievable, given enough political will and support."
The Chinese government's latest move to support the market was a renewed tax-exemption policy for new-energy vehicles, announced this month.