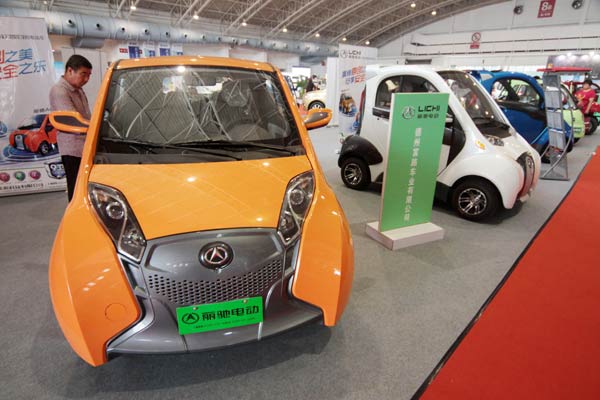 New energy car at the Beijing auto show this year. Various levels of government, carmakers and electricity suppliers need to work together to develop the market, said a leading expert. WU CHANGQING/CHINA DAILY
Hybrid, fuel cell and EVs get exemption
When the State Council recently announced new-energy vehicles are exempt from purchase taxes from Sept 1 to the end of 2017, it was another boost to the industry as automakers, various levels of government and power suppliers gear up to do their part.
Tax-exempt vehicles include all-electric cars, plug-in hybrids and fuel cell vehicles.
With the usual purchase tax of 10 percent gone, "it will greatly enhance the appeal of new-energy vehicles", a salesman at a Shanghai Roewe dealership told Shanghai Securities News.
An online poll at sohu.com shows nearly 60 percent of 2,588 respondents said they will buy new energy vehicles as they become cheaper when the policy goes into effect later this year.
Electric-car buyers are already receiving subsidies from the central government and many local governments.
Those who purchase plug-in hybrids will probably receive the same subsidies from the end of this year, said Ouyang Minggao, a professor at Tsinghua University and head of the nation's energy-saving and new-energy vehicle program.
Ouyang said he is optimistic about the prospects as he believes government support is one of the three-most important driving forces in development of the new-energy vehicle market. The other two are sound infrastructure and good models, he said.
Statistics from the China Association of Automobile Manufacturers show that 20,692 new-energy vehicles were produced and 20,477 sold in the first half of the year, more than double the figure from the same period last year.
Ouyang said sales could hit 100,000 units in 2014 as a number of new models are set to arrive by year's end. He calls it "the start of the new-energy vehicle's era".
The lack of charging facilities is another impediment to the popularity of new energy vehicles, but Yang Zan, a property researcher at Tsinghua University, said the actual conditions are better than many thought.
Yang said there is no problem installing private charging facilities in 10 to 15 percent of Beijing's communities and challenges can be overcome in another 40 percent.
She said it requires cooperation between the auto and property industries.
Authorities are helping the two join hands, with the Beijing government expected to adopt a regulation that requires property management companies assist residents in installing charging facilities, according to The Beijing News.