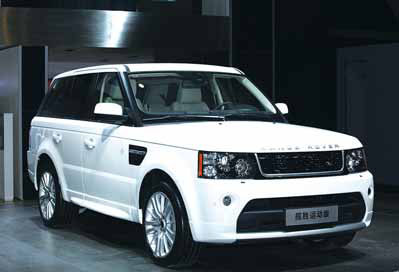 The 13MY Range Rover Sport had its China debut at the gala.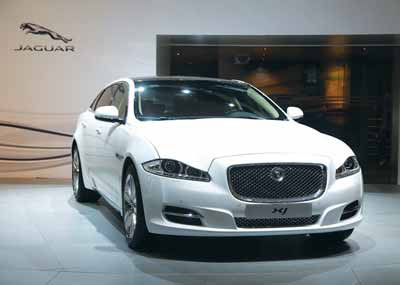 The 13MY Jaguar XJ made its global premiere at the Chengdu motor show. Photos Provided to China Daily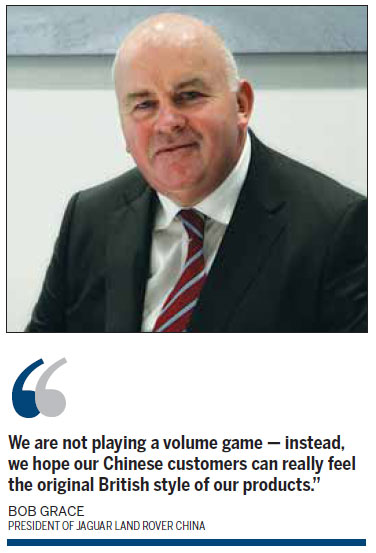 The 13MY Jaguar XF and XJ equipped with the brand's latest powertrains made their world premieres at the Chengdu motor show underway from Aug 31 to Sept 9.
At the same time, the updated 13MY Range Rover Sport had its Chinese debut at the gala, while Range Rover Evoque Special Edition with Victorian Beckham made its debut on the market in western China.
Also on show was the Freelander 2 equipped with a 2.0-liter Si4 engine, another example of the trend toward high performance, small displacement engines.
"At the show, Jaguar Land Rover is showcasing a number of innovative technologies, small engines and tailor-made models demonstrating its leadership in the luxury car segment, sheer dedication to the Chinese market and long-term commitment to sustainability," said Bob Grace, president of Jaguar Land Rover China.
"In China, over 80 percent of the cars that Jaguar Land Rover has sold are equipped with engines smaller than four liters," he said.
He also noted the models on display at the Chengdu motor show illustrate the British luxury automaker's aim to meet China's sustainable development strategy.
This year, Jaguar Land Rover will celebrate the fifth anniversary of its global CO2 Offset Program, which builds environmental protection projects that compensates for all the CO2 emissions generated during manufacturing operations as well as the first 72,000 km of customer use of all Land Rovers.
To date the carmaker has funded 50 environmental protection projects around the globe, 15 of them built in China at an investment of almost 85 million yuan.
Solid growth
As Britain's largest luxury carmaker, JLR has registered solid growth in China in the first eight months of this year, delivering more than 47,000 vehicles, an increase of nearly 90 percent over the same period last year.
Fuelled by a new marketing campaign called "ALIVE" that aims to increase brand awareness among customers, Jaguar has grown by almost 60 percent year-on-year and Land Rover recorded more than 90 percent growth as it sold in excess of 40,000 units.
Among the Jaguar Land Rover portfolio, Range Rover Evoque and Freelander 2 2.0-liter turbocharged petrol version - with their astonishing fuel economy and lightweight designs - contributed significantly to the automaker's steady and rapid growth over the first eight months of the year. Now, the new 13MY Jaguar XF and XJ continue JLR's trend for offering smaller and more fuel efficient engines.
As an integral part of its China strategy, Jaguar Land Rover has placed strong emphasis on the western regions by continuing to increase its investment, optimize service quality, enhance the customer experience and bolster its dealer network.
Going west
In the western China market, Jaguar Land Rover sales have increased 58 percent over the first eight months of last year.
It has opened its fifth spare parts distribution center in Chongqing, while the fourth Land Rover Experience Center in the nation is due to be built in Chengdu, marking another milestone for the British car icon's expanding business in western China.
With attractive landscaping and premium facilities offering both test drives and relaxation, the Land Rover Chengdu Experience Centre will provide visitors with opportunities to test drive Land Rover's full complement of nameplates, learn about the brand spirit and culture of safe driving and environmental protection.
Over the past two years, the carmaker has registered an increase of more than 100 percent in the number of local dealers in western China.
Grace said there will be more new models introduced after 2013 and its dealer network will continue to expand. Jaguar Land Rover now has 130 appointed authorized dealerships across the country with 90 already in operation. The number of the appointed dealerships is expected to rise to between 145 and 150 by next March.
He credited the robust performance to the carmaker's "tailored for China" strategy that includes the latest products and energy-saving technologies customized to Chinese preferences in combination with top-notch services.
"We are not playing a volume game - instead, we hope our Chinese customers can really feel the original British style of our products," Grace said.
"With an eye on sustainable growth, our infrastructure investment including enhancing operational capabilities in China is helping to strengthen our position," he added.
Localized production is also part of sustainable development, with a joint venture between Jaguar Land Rover and domestic automaker Chery now awaiting approval from industry regulators.
Local reports say the joint venture's first vehicles are scheduled to roll off the production line in 2014.
xuxiao@chinadaily.com.cn