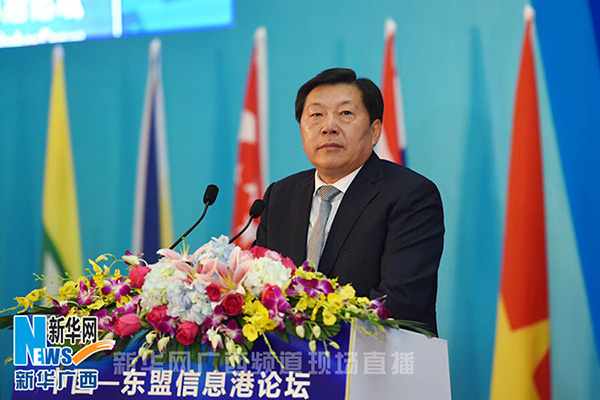 Lu Wei, minister of the Cyberspace Administration of China speaks at the China-ASEAN Information Harbor Forum opening ceremony in Nanning, Guangxi Zhuang autonomous region on September 13, 2015. [Photo/Xinhua]
The digital economy has become the most powerful engine to drive China's economic development, said Lu Wei, minister of the Cyberspace Administration of China (CAC), at the China-ASEAN Information Harbor Forum that began on Sunday.
Speaking at the opening ceremony, Lu said the Internet was showing a growing effect on upgrading industries and supporting the development of innovative businesses in China, and the sector's growth rate was five times higher than that of GDP.
China's growth eased to 7 percent in the first half of the year, the weakest in more than two decades, but that was no small achievement in a slowing world economy.
Underpinned by the "Internet Plus" strategy, "we hope to develop cross-border e-commerce, better build a China-ASEAN Information Harbor, create a regional financial information center and push forward digital economic cooperation among these countries," said Lu.
Cross-border e-commerce has grown substantially since China established a pilot program offering preferential policies to businesses in five Chinese cities - Shanghai, Chongqing, Hangzhou, Ningbo and Zhengzhou - at the end of 2013.
Statistics from the Ministry of Commerce show trade volume of cross-border e-commerce reached 3.75 trillion yuan in 2014 and is expected to reach 6.5 trillion yuan in 2016.
More than 200,000 companies are running cross-border e-commerce businesses in China with more than 5,000 online shopping platforms.
"China and ASEAN countries are all developing with a wide range of needs and great potential in digital economic development," said Lu.
He noted that 700 million people in China are yet to have access to the Internet, while 400 million people in ASEAN countries are not Internet users, either. "They have a greater need to get more information, gain knowledge and get rid of poverty via the Internet," said Lu.
"The key to building modern and smart information hubs lies in technology and innovation. We're glad to see more and more enterprises, research institutions, higher education and industrial organizations join the China-ASEAN technology cooperation network to improve the level of technological assembling and enhance the incubation of innovations," Lu continued.
The forum, themed "Internet plus Maritime Silk Road: Cooperation, Mutual Benefit and Win-win", was staged jointly by the CAC, National Development and Reform Commission and Guangxi Zhuang autonomous region.