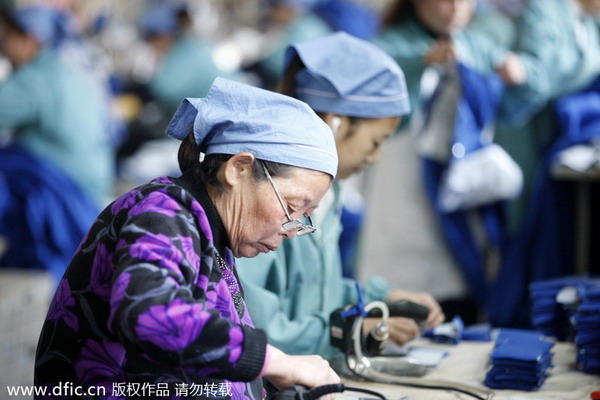 Female Chinese workers sew clothes to be exported to the United States and Europe at a garment factory in Huaibei city, east Chinas Anhui province, Jan 1, 2014. [Photo / IC]
BEIJING -- The latest economic data suggests continued downward pressure on China after worse-than-expected figures for industrial activity and investment were released for the first two months of 2015.
Industrial output in the world's second largest economy grew 6.8 percent year on year in January-February, down 1.1 percentage points compared to growth for December, the National Bureau of Statistics (NBS) announced Wednesday.
Growth has undershot market estimates of 7.7 percent.
"It also fell short of our estimate of 8 percent," said Bob Liu, an analyst with China International Capital Corp (CICC), who cited weakened domestic demand as the key cause.
Month on month, industrial output in February grew 0.45 percent from the previous month, NBS data showed.
The output of manufacturing rose 7.5 percent during the first two months while mining saw output grow 4.2 percent, growth for electricity, heating, gas and water was 4 percent.
Industrial output of state-owned and state-controlled enterprises saw 2.2 percent growth year on year in the first two months, while that of joint stock companies expanded by 7.7 percent. Industrial output of enterprises funded by overseas investors expanded by 4.9 percent.
According to the NBS, economic data including industrial output, fixed asset investment, retail sales and property investment for January, together with data for February, were arranged for joint release in March.
Fixed-asset investment growth slowed to 13.9 percent during the same period, down 1.8 percentage points compared to the annual growth rate for last year.
Property investment grew 10.4 percent, compared to 10.5 percent in 2014, however, a 16.3 percent drop in property sales in terms of floor space has complicated future investment growth, according to analysts.
Retail sales grew 10.7 percent, also down from 11.9 percent registered for December.