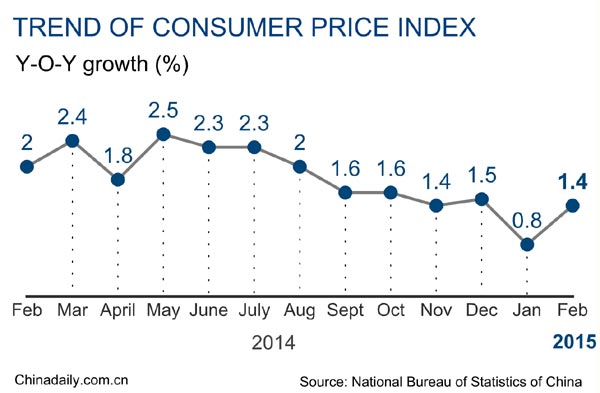 BEIJING -- China's consumer price index, a main gauge of inflation, grew 1.4 percent year on year in February, the National Bureau of Statistics announced Tuesday.
The stronger-than-expected reading quickened from the 0.8-percent gain in January, the lowest level in more than five years.
NBS statistician Yu Qiumei attributed the recovery to rising food and travel prices during the Chinese Lunar New Year Holiday. Distortions caused by the timing of the Spring Festival, which fell on January 31, 2014 but on Feb. 19 this year, also played a part, the NBS explained.
Food prices, which account for nearly one-third of weighting in China's CPI, increased 2.4 percent year on year in February. On a monthly basis, consumer prices in January went up 1.2 percent.
In addition, China's producer price index (PPI), which measures wholesale inflation, plunged 4.8 percent year on year in February, marking the 36th straight month of decline that pointed to continuing weak market demand.
China's economy grew 7.4 percent in 2014, the weakest annual expansion in 24 years, and a string of economic indicators for the new year, including manufacturing and trade data, all suggested continued weakness.
The annual government work report, delivered by Premier Li Keqiang at the opening meeting of the national legislature's annual session, set this year's economic growth target at around 7 percent and inflation control target at around 3 percent.