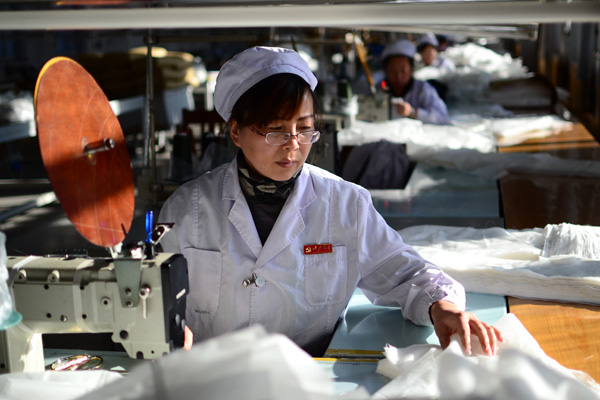 Employees work in a factory in Qiqihar city, Northeast China's Heilongjiang province, Nov 7, 2014. [Photo/Aisanewsphoto by Wang Yunlong]
BEIJING - China's factory gate price decline deepened in November as a slowing economy and housing market downturn weakened domestic demand for industrial goods.
The producer price index (PPI), which measures inflation at wholesale level, dropped 2.7 percent year on year in November, its steepest fall in 18 months, the National Bureau of Statistics (NBS) said on Wednesday.
The factory gate prices last month decreased for a record 33rd month in a row.
PPI dropped 2.2 percent in October, 1.8 percent in September and 1.2 percent in August. On a monthly basis, PPI contracted 0.5 percent from the previous month, accelerating from October's 0.4 percent fall.
Yu Qiumei, a senior NBS statistician, attributed the drop to the lower prices of oil and natural gas; refined oil; and chemicals, which contributed to a 0.4 percentage point fall in November's PPI reading.
In the first 10 months, the country's PPI fell 1.8 percent year on year.
Consumer inflation remains benign. Consumer price index rose 1.4 percent in November from a year earlier, the slowest since November 2009.