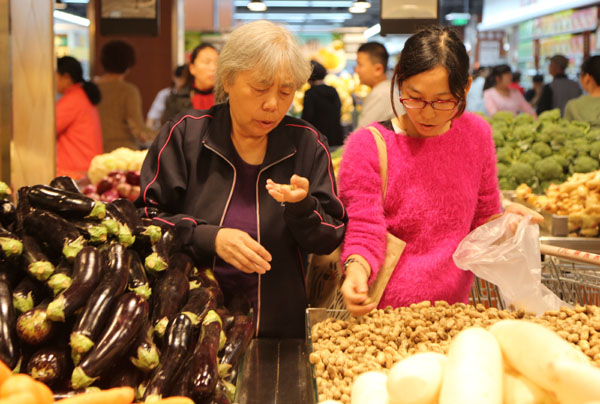 Consumers shop in a supermarket in Xuchang city, Central China's Henan province, Oct 6, 2014. [Photo/Asianewsphoto by Geng Guoqing]
BEIJING - China's consumer prices grew by their slowest pace in five years in November, which may result in more easing measures by the policymakers, official data showed on Wednesday.
The consumer price index (CPI), the main gauge of inflation, rose by 1.4 percent year on year, the slowest increase since November 2009, when it rose 0.6 percent, according to the National Bureau of Statistics (NBS).
The data's release came as China's leaders are holding the Central Economic Work Conference to map out major economic policies and priorities for the coming year based on an economic "new normal."
The meeting is being widely monitored as the world's second largest economy is having a rocky year. In the third quarter, growth slid to a low not seen since the 2008/2009 global financial crisis, dragged down by a housing slowdown, softening domestic demand and unsteady export.
With investors expecting more easing policies after a rate cut in November, the CPI data serves as a barometer to assess the possibility of more easing measures such as lowering the reserve requirement ratio (RRR).
This is the third month in a row that China has seen its CPI rise within 2 percent. For the first 11 months, inflation grew 2 percent, well below the 3.5 percent full year target set by the government.
As inflation further inches down, experts see a higher probability of such measures in the next few months.
Prices growing slower
On a monthly basis, November's CPI dipped 0.2 percent against the previous month, while data remained flat in October.
Yu Qiumei, a senior NBS statistician, attributed the record low inflation level to seasonal and international factors.
Food prices, which account for about one-third of the CPI calculation's weighting, rose 2.3 percent from a year ago in November, lifting CPI by 0.77 percentage points, compared to 2.5 percent and 0.83 percentage points in the previous month.
Food inflation was offset by easing non-food inflation, which edged up 1.0 percent year on year in November. Subdued non-food inflation mainly came from falling fuel prices, which dropped by 8.3 percent.
Last month, the slump in international crude oil prices brought down domestic gasoline and diesel prices, which dropped 5.6 percent and 5.9 percent year on year, respectively, dragging down the CPI by 0.05 percentage points, said Yu.
In addition to the slower consumer price growth, China's factory gate price decline deepened in November as a slowing economy and housing market downturn weakened domestic demand for industrial goods.
The producer price index (PPI), which measures inflation at wholesale level, dropped 2.7 percent year on year in November, its steepest fall in 18 months, the NBS said on Wednesday.