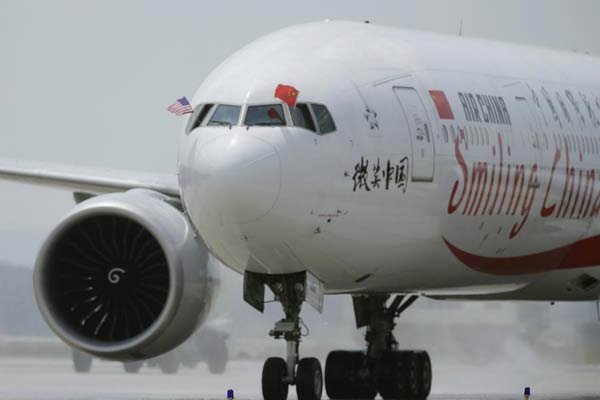 The cockpit, adorned with United States and Chinese national flags, is pictured as Air China's inaugural flight from Beijing to Washington arrives at Dulles International Airport in Virginia June 10, 2014. [Photo/Agencies]
BEIJING - China's flagship carrier Air China said Tuesday its net profit slumped 57.6 percent year-on-year to 474 million yuan ($77 million) in the first half of 2014.
The exchange rate volatility of the Chinese yuan against the US dollar was the primary factor that led to the overall decline of its first-half profit, the carrier said in a statement filed to the Shanghai stock exchange.
The airliner said it suffered a net exchange conversion loss of 721 million yuan in the first half, compared with a net gain of 1.12 billion yuan a year ago.
In the first half, business revenues rose 7.11 percent to 49.1 billion yuan, Air China said.
The company said demand in China's domestic passenger market grew moderately in the first half. While Chinese enthusiasm for outbound travel remained high and the market for international passengers continued to be strong.
For the second half of 2014, Air China offered caution, saying the industry's internal and external competition will remain intense, while exchange rates and oil prices remain uncertain.
On Tuesday, shares of Air China fell 3.76 percent to close at 3.58 yuan in Shanghai and lost 1.81 percent to HK$4.88 in Hong Kong.