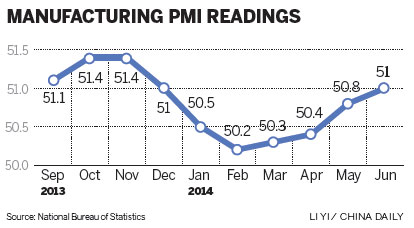 "There are still downside risks due to a property market slowdown, which will continue to put pressure on growth in the second half of the year. We expect both fiscal and monetary policy to remain accommodative until the recovery is sustained," said Qu Hongbin, chief economist for China at HSBC.
Chang Jian, chief China economist at Barclays Plc, said in a note: "We think more policy easing, whichever form it takes, is unavoidable."
But beyond the monthly headline numbers, many economists fear it will be hard for China to achieve the 7.5 percent GDP growth goal.
"China can't realize the official growth target without extra stimulus. You can see it since 2012: Every time stimulus ceased, the growth rate dropped," said Chen Xingdong, managing director and chief economist of BNP Paribas Group (Asia).
"Most global investors now believe China's endogenous growth momentum has declined to below 7 percent. They will assume a 6 to 6.5 percent growth prospect for China when they make investment projections. That's not necessarily bad, because they've become sober and less ambivalent," he said.
Yuan Gangming, an economics professor at Tsinghua University in Beijing, said the government has to take measures to prop up the property sector if "you don't want a sharp correction".