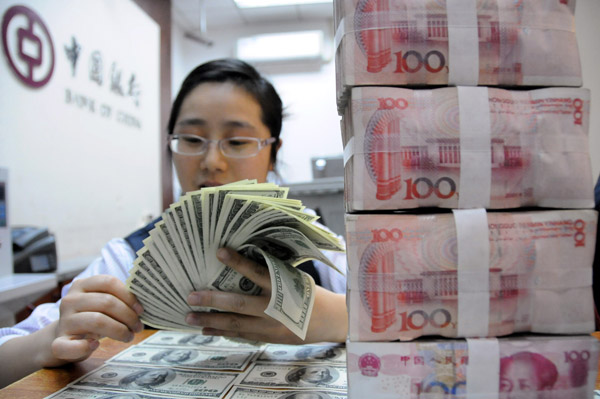 A clerk counts currency at a Bank of China Ltd branch in Nanchong, Sichuan province. The yuan has depreciated almost 1 percent against the dollar since Feb 17. [Photo/Xinhua]
BEIJING - Chinese banks' January foreign exchange settlement stood at 1.2 trillion yuan ($203.3 billion), said the State Administration of Foreign Exchange (SAFE) on Tuesday.
Foreign exchange sales by Chinese banks in January stood at 793.7 billion yuan, according to the SAFE.
The discrepancy resulted in a settlement-sales surplus of 447.5 billion yuan, the sixth consecutive monthly surplus, as well as the biggest in recent years.
Settlement-sales surplus is a major contributor to a country's foreign exchange reserve. Financial expert Zhao Qingming said, "The surplus suggested that China is confronted with high pressures of trans-border capital inflows."
China's currency, the yuan, has already been affected by the fluctuation of trans-border foreign capital flows.
The yuan saw a string of appreciations in January, and hit a record high of 6.0930 against the US dollar on Jan 14.
But the currency started to tumble in February, and lost 136 basis points after five consecutive daily drops from Feb 18 to 24.
China may continue to receive large net capital inflow in 2014, the SAFE said in a report released on Tuesday.
It noted that China's exports this year are likely to be boosted by the improving world economy, especially in developed economies, and that the country's deepening reform measures may also bolster overseas investors' confidence.
The administration also attributed the possible inflow increase to higher interest rates in China compared with developed economies, a gap that enables foreign capital to grab bigger returns here.
But at the same time, the US QE tapering and potential economic risks at home, especially when hyped, could increase the uncertainty of the one-sided capital flow, according to the administration.
"There is a pressing need to establish a sustainable plan to regulate the country's balance of payments," said the SAFE report.
Renminbi weakens for sixth day
Yuan may end one-sided appreciation: experts