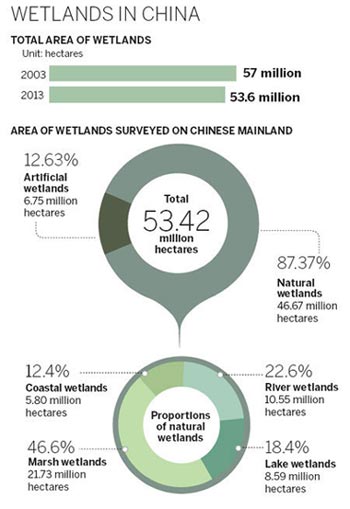 Nearly 9 percent of China's wetlands have vanished over the past decade as urban development has increased, a change that experts said shows the need for regulation to protect the natural resource.
A report of the second national survey of wetlands resources, released on Monday, said that more than 3.39 million hectares of wetlands have disappeared since the first national survey 10 years ago, even though more wetlands are under conservation today.
"The wetlands we lost in the last decade equal about 3 percent of the national territory," said Zhang Yongli, deputy director of the State Forestry Administration. "The factors threatening wetlands have expanded."
Zhang said that since the first survey, the threats to wetlands have grown from three to five.
Ten years ago, pollution, land reclamation and illegal hunting were the key threats. Today they are pollution, excessive fishing and gathering, land reclamation, invasion of alien species, and occupation by infrastructure, he said.
Zhang said that absence of wetland-conservation legislation is now a big concern.
"We need to step up legislation," he said. "China should promulgate the National Wetlands Conservation Regulation as quickly as possible to clearly define powers and responsibilities, administrative procedure and a code of conduct in wetland conservation."
China joined the Ramsar Convention on Wetlands in 1992 but still hasn't enacted a national regulation as the convention requires.
Zhang said that it is because different interest groups are battling over the legislation.
According to the survey, half of the wetland areas are in less-developed western China, which is undergoing urbanization and economic development.