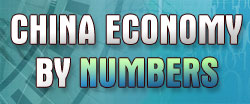 BEIJING -- China's consumer price index (CPI), a main gauge of inflation, rose 3.1 percent year on year in September, up from 2.6 percent in August, the National Bureau of Statistics (NBS) said on Monday.
In the first nine months, CPI growth stood at 2.5 percent on average, well below the government's full-year target of 3.5 percent.
Yu Qiumei, a senior statistician with the bureau, attributed the rise in September mainly to a rebound in food prices due to the holiday effect, as well as droughts and floods in some regions. Food prices account for about one third of the CPI calculation.
Last month, food prices rose 6.1 percent year on year, while prices of non-food products moved up 1.6 percent, according to the NBS.
The NBS data also showed China's producer price index, which measures inflation at the wholesale level, fell 1.3 percent in September from a year ago.